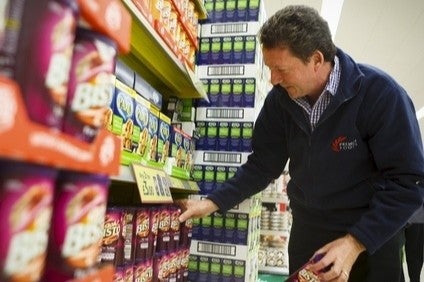 Gavin Darby, the chief executive of Premier Foods, is to step down from the helm of the UK manufacturer after almost six years in the job.
Darby's departure follows a battle over Premier's strategy with activist investor Oasis Management, which during the summer voted against his re-election as CEO.
The Premier chief executive secured enough support at Premier's AGM in July to stay on but, four months later, has announced his decision to stand down.
Darby revealed the move alongside what he called "a new strategic initiative for the business", which will see Premier focus on its spending on parts of the company it believes have the most potential to grow.
The re-focusing has led Premier to hold talks to sell its Ambrosia custard brand to raise funds to invest and also to reduce its debts.
"While we are committed to our strategy of improving operating performance and targeting a net debt-to-EBITDA ratio below three times by March 2020, we are also working in parallel to identify other strategic opportunities to accelerate the company's turnaround," Darby said in an announcement to the London Stock Exchange.
"The Board has determined that it should focus resources on areas of the business which have the best potential for growth through accelerated investment in consumer marketing and high return capital projects. Accordingly, we are pursuing options to fund these plans as well as delivering a meaningful reduction in net debt, through discussions with third parties regarding the potential disposal of our Ambrosia brand. Although there is no certainty that any transaction will complete, we will update shareholders in due course."
Darby has at times faced investor criticism during his tenure due to Premier's choppy sales performance but, notably, after a sale of the business to US suitor McCormick & Co. failed to materialise.
Premier has also spent much of this summer locked in a war of words with Oasis Management, which was critical of the company's performance under Darby and wanted to unseat him as CEO.
Darby eventually beat off that challenge and was re-elected at the company's annual general meeting on 18 July.
But, partly as a result of activist investor pressure, Premier instigated a strategic review and in July said it may look to offload assets.
The former Coca-Cola executive said he would stand down on 31 January.
In a statement issued today, Oasis said: "We welcome Gavin Darby's departure, and are optimistic about the path ahead. We look forward to Premier Foods accelerating and realising its true potential. We thank [Premier chairman] Keith Hamill for his leadership and action."
Alongside the announcements of Darby's departure and plans to sell Ambrosia, Premier also announced its first-half financial results.
In the six months to 29 September, Premier's group revenue rose 1.3% to GBP358m (US$460.7m). Sales from brands inched up 0.5% to GBP296.9m. Premier said sales from "non-branded" products increased 5.5% to GBP61.1m.
Premier generates the bulk of its sales in the UK. Sales from its fledgling but growing international business fell 9% amid price increases by wholesalers that export some of Premier's products and amid the phasing of cake shipments to Australia.
Operating profit rose 25.7% to GBP28.3m on the back of a 6.2% increase in trading profit and Premier lapping impairment charges.
The company made a first-half loss of GBP0.7m, against a profit of GBP0.3m a year earlier.