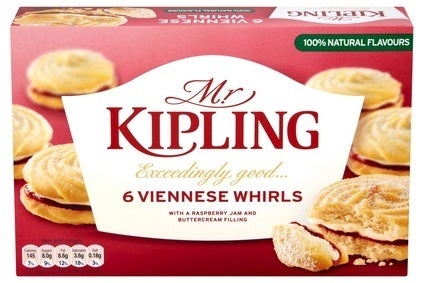 Premier Foods plc saw "improving" branded sales trends throughout the fourth quarter of 2014, news that lifted the Mr Kipling maker's shares in early trade today (23 January).
Revenue generated by the group's so-called "power brands" decreased 3.5% year-on-year, compared to a 4% drop in the third quarter. The company said power brands reached their highest quarterly market share for three years and highest December market share for four years.
CEO Gavin Darby said: "I am pleased with the improved branded sales trends in the fourth quarter, and particularly our key December trading period, in what continue to be challenging market conditions. The trend in branded sales improved for the second consecutive quarter, our market share in December was the highest it's been for the last four years and we are encouraged by positive results from areas of the business in which we invested. Mr. Kipling delivered a particularly strong performance following its re-launch in the second half of 2014."
The positive top-line momentum helped drive Premier's share price up this morning, with shares climbing 9.85% at 10.40am (GMT).
Sales of "support brands", such as Paxo, were down 3.2% in the period while non-branded sales – an area that Premier is pulling back from – decreased 11.5%. Total brand sales were down 4.6% to GBP255.2m (US$382.3m), the company revealed.
Full-year underlying trading profit totalled GBP131m, down 6.1% but in-line with expectations. Net profit, adjusted for disposals, totalled GBP60.5m, a decrease of 2.7%.
During the fiscal year, Premier has re-engineered its balance sheet through a number of actions including a rights issue. As a result of efforts to deleverage, net regular interest payments in the period fell 7.7%, the group revealed.
Shore Capital analysts noted: "We are pleased to see debt reduction in line with expectations to GBP567.6m (Shore Capital forecast GBP564m) though the debt/EBITDA ratio [is] a still constrained 3.9%. Management has reiterated its expectation of a further step change reduction in net debt through 2015 and has reiterated its medium term leverage target of a net debt/EBITDA ratio of 2.5x."
Click here for coverage of our interview today with Premier CEO Darby.