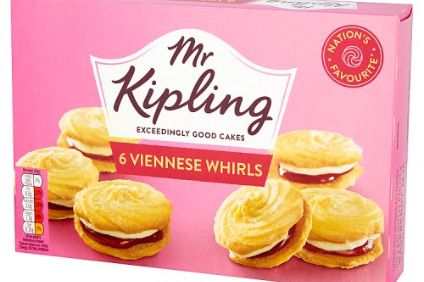 Premier Foods, one of the UK's largest food manufacturers, has signed an agreement with Canada-based bakery supplier Weston Foods to sell and market Mr Kipling cakes in the US.
The tie-up with Weston, the bakery arm of Canadian food producer and retailer George Weston Ltd, is part of London-listed Premier's international strategy, a small business area from which the company reported this morning (19 January) sales rose 43% in its third quarter ended 26 December.
Premier expects to make the first deliveries to Weston under the agreement in the first quarter of its new financial year beginning in April. No other details were provided.
Nearly a year ago, Premier completed a long-awaited strategic review, culminating in the merger of two pension funds, thereby removing a financial impediment that had dogged the Batchelors soups maker for some time. It said last April the business would "continue to pursue its successful branded growth model strategy, opening up further opportunities to deliver value in due course".
In a trading update today, Premier reported group sales for the quarter were up 9% and 12.5% for the fiscal year so far. Branded products growth came in at 12.1% and 16% year-to-date. However, non-branded sales were down 2.7% over the three months and were 3.9% lower over the nine months.
Reflecting the increased demand through e-commerce linked to Covid-19 restrictions, sales through the channel climbed 90% in the third quarter.
Premier also provided an update on the trading environment since the end of the UK's Brexit transition period with the European Union on 31 December and the trade deal struck with the trading bloc on Christmas Eve.
"In advance of the end of the EU exit transition period, the group developed a comprehensive set of mitigation plans and preparations to ensure continuity of supply of its products. With a free trade agreement with the EU now in place, the group is not expecting any material impact from tariff changes. To date, these new arrangements have not resulted in any major disruption to the group's supply chain," Premier said in the filing with the London Stock Exchange.
The company also provided an outlook for full-year trading profits, which it expects to be in the region of GBP145m (US$197.1m) to GBP150m.
CEO Alex Whitehouse said this morning that the out-of-home channel is likely to "remain heavily restricted" amid Covid-19 lockdowns and so expects to "see continued high levels of consumer demand for our products".