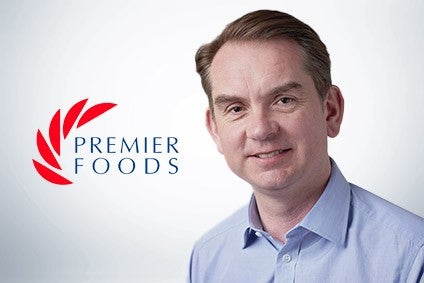 Premier Foods, the owner of the Mr Kipling cakes brand, is supportive of the Government's measures to cut obesity levels, a strategy criticised by the body representing UK food and drink manufacturers.
This week, Prime Minister Boris Johnson revealed a ban on TV and online advertising of foods high in salt, sugar and fat (HSFF) before the 9pm watershed, as well as restrictions on promotions, in an effort to lower obesity rates.
Tim Rycroft, the chief operating officer at the Food and Drink Federation, described the moves as a "a punishing blow" to the UK food and drinks sector, warning such measures could push up costs for the consumer and reduce choice.
However, Premier Foods CEO Alex Whitehouse, addressing analysts today (29 July) after reporting first-quarter results, said the Batchelors soups owner is generally "supportive" of the plans.
"I think overall, we support the Government's desire to improve the nation's health, and I think we've got an important role to play that we've recognised for some time. We will have to wait and see the full details but we are broadly supportive of the overall intent," Whitehouse said.
He noted that health considerations have become the "number one trend" in Premier Foods' product innovation, reflected in 80% of its core ranges having better-for-you options such as low salt and fat.
Whitehouse continued: "We are not advertising our brands to children anyway, our brands are generally bought by adults as part of creating a meal, so the impact of any advertising restrictions will be very limited for us. There's a large number of products in there [its portfolio] that don't fall into the high fat, salt and sugar restrictions. We'll continue to work with government on it and give our input, and we will see where it lands."
Premier Foods first-quarter results to 27 June were boosted by the increase in eating at home as restaurants shutdown during the lockdown. Group sales rose 22.5%, while branded sales were up 27%.
In the UK, the company's largest market, Premier reported a 12th consecutive quarter of revenue growth, with sales climbing 23% and the branded segment rising 27.9%.
Premier said 6% more households have been buying into the company's brands, with household penetration for grocery increasing 620 basis points.
In Premier's individual operating divisions, grocery sales climbed 31.7%, while sweet treats were up 0.5%. International sales rose 13% on the back of a previously outlined new strategy, which Whitehouse said in June would entail a "focus on a handful of markets".
Although the CEO has not specified which markets, he said today Premier is "on the brink of appointing an American distribution partner for our cakes in the US".
"I think we are making good progress," he said in terms of the strategy, "but it is early days and I don't want at this point to give the impression that the quarter's performance is a result of that strategy already bearing fruit".
And with a strategic review now complete, culminating with the amalgamation of the group's pension funds, which removed a financial impediment that has dogged the business for many years, Premier said it is "exploring further opportunities to reduce financing costs and net debt", although no specifics were provided.
For the rest of the year, now that the pantry-loading seen in the early days of the crisis has subsided, Premier expects more normal trading conditions to ensue.
"Quarter two has started strongly, as we expected. However, we expect this to steadily fall back to more normal levels as we go through the quarter and as we move into quarter three, and we expect to see progress then being picked up by our innovation plans and our brand support," Whitehouse said.
Martin Deboo, an analyst covering Premier for investment bank Jefferies, said the fact the Bisto owner's sales growth came from its grocery brands would help the company's profitability.
"The result has been led by the core branded grocery business – 61% of sales – which grew by 39% in Q1, with all the Group's main grocery brands seeing double-digit increases in the quarter. Sweet treats grew by just under 1%. The fact that 100% of the Q1 growth was coming from branded grocery, which we think has a divisional contribution margin in excess of 25% relative to circa 10% in sweet treats, bodes well for profitability in fiscal year 2021. Six brands benefitted from an extended TV presence in the quarter, symbolic of the headroom for investment that this affords."