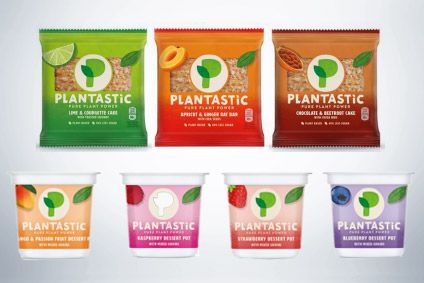 The UK's Premier Foods is hoping that a new plant-based range called Plantastic can help reverse its fortunes after recording a pre-tax annual loss.
The range will include desserts, cake and soup.
It made the launch announcement after reporting a pre-tax loss of GBP42.7m (US$55.2m) in the 52 weeks to 30 March, compared to a profit of GBP20.9m the previous year, driven by a 35.2% fall in its non-branded goods segment and issues with a move to a new warehouse. Premier reported that on an adjusted basis its pre-tax earnings were up by 12.1% at GBP88m.
Revenue rose marginally (0.6%) to GBP824.3m, while net debt was reduced from GBP496.4m to GBP469.9m.
The company behind brands such as Oxo, Ambrosia and Sharwood's, said its cake brand Mr Kipling was the star performer with revenue growth of 12% following a brand relaunch in the UK.
Alastair Murray, acting chief executive officer, said: "Premier Foods has delivered consistent progress over the last two years, growing revenue, trading profit, adjusted earnings and reducing net debt."
Moving on to plans for this year, he said: "This year we plan to increase investment in both capital projects and consumer marketing, with up to five of our biggest brands expected to benefit from TV advertising.
"We have plans to launch an exciting new brand, 'Plantastic', using plant-based ingredients, in response to current consumer trends and we expect our international business to return to double-digit growth in the coming year.
"While the first half of FY19/20 is expected to be slower than last year, reflecting the timing of marketing investment, we expect to make further progress over the next 12 months thanks to our continuing pipeline of new product innovation and strong customer relationships. We remain focused on reducing our levels of net debt and expect to deliver a similar level of debt paydown in the coming year."
Premier Foods also said its strategic review is ongoing and promised to update the market "as and when that becomes appropriate".
In April, it was reported that the company had hired bankers at advisory firm d'Angelin & Co. to explore what might amount to asset disposals after it pulled the plug on the sale of its Ambrosia brand.
Activist investors in London-listed Premier have been pushing for the company to trim its portfolio of brands to drive growth in more profitable areas of the business and reduce debt.