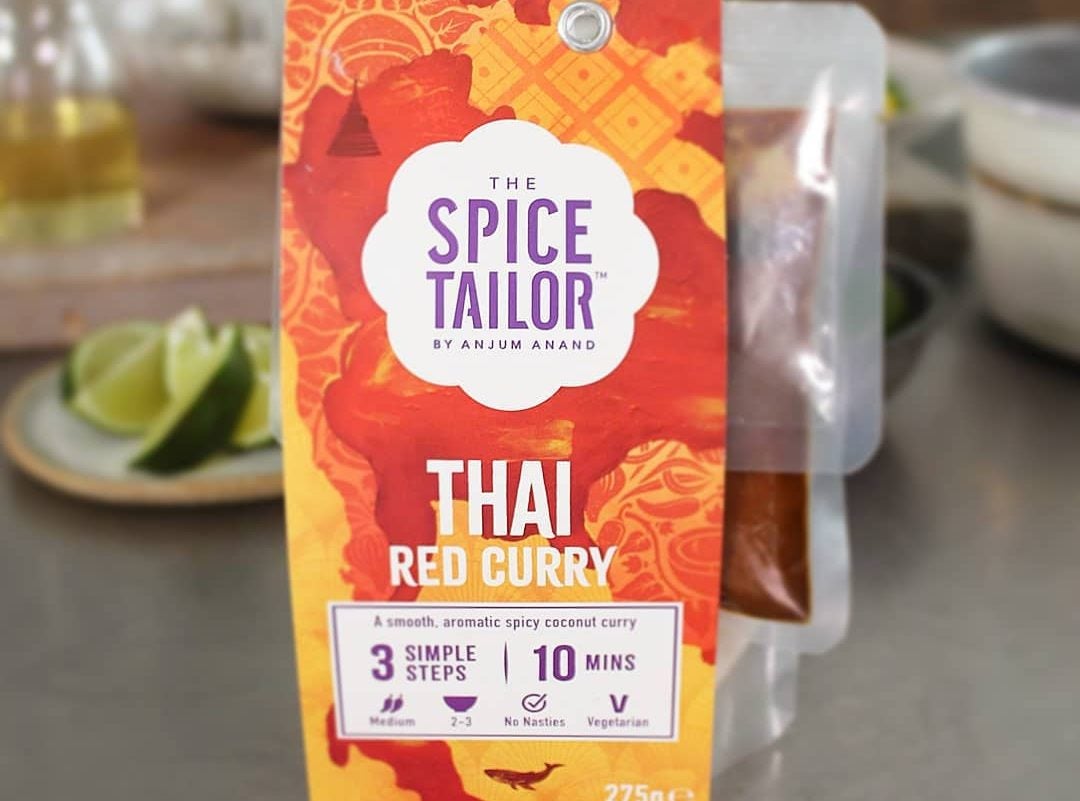 Premier Foods has struck for UK-based meal-kits firm The Spice Tailor, marking the Mr Kipling cake brand owner's first full-fledged acquisition in more than a decade.
The GBP43.8m (US$52.7m) purchase of privately-owned and London-based The Spice Tailor also represents CEO Alex Whitehouse's M&A debut since he took the helm in 2019.
London-listed Premier Foods said the acquisition of The Spice Tailor, founded by Anjum and Adarsh Sethia, is "highly complementary" to its cooking sauces brands Sharwood's and Loyd Grossman as consumers continue the pandemic-related trend of cooking more at home, along with an appetite for "premiumisation and authenticity".
The Spice Tailor supplies products based on cuisines from India and south-east Asia, to the major UK supermarkets. Premier said it has been expanding at a CAGR of 20% over the past four years and is expected to post revenue in the 2022/23 financial year of GBP17.3m.
For the year ended 31 March 2021, The Spice Tailor reported profit before tax of GBP700,000. Key markets for the business are the UK and Australia, accounting for respective revenue portions of 58% and 35%. The company's products are mainly manufactured in India.
As well as in the UK, Premier Foods also has a presence in Australia, along with supplying Canada and Ireland.
Whitehouse, who heads a business manufacturing branded and private-label products, said: "The acquisition is well aligned to our growth strategy and we see a clear opportunity to build on the excellent track record of The Spice Tailor by leveraging the elements of our proven branded growth model.
"This acquisition represents a highly complementary geographical fit, and we see significant potential to expand The Spice Tailor's distribution in all our target markets."
Premier Foods last instigated a full-fledged acquisition in 2006, when it bought fellow UK food maker and Mr Kipling owner RHM under the watch of then CEO Robert Schofield. The deal marked a spate of M&A activity over the course of two years.
Also in 2006, Premier Foods struck for the UK and Irish business of US-based Campbell Soup Co., inheriting the Oxo, Batchelors, HomePride and Fray Bentos brands.
The previous year, Premier Foods acquired UK snacks and tofu maker Cauldron Foods and Marlow Foods, the owner of the vegan brand, Quorn. Both of those businesses were later sold to Exponent Private Equity. Also in 2005, the company purchased the Bird's Custard and Angel Delight names from what was then Kraft Foods.
Away from full acquisitions, the most recent transaction struck by Premier Foods was Knighton Foods in 2016, when it bought the 51% stake it did not already own in the powdered drinks and desserts business.
The Spice Tailor's founders added: "We're very pleased that The Spice Tailor will become part of Premier Foods and are looking forward to unlocking further growth for the brand, which we have nurtured since its inception. We see Premier, with their track record of brand investment and strong commercial relationships, as the perfect fit for The Spice Tailor, driving it onto the next stage of its evolution."
The business supplies Tesco, Sainsbury's, Morrisons, Asda, Waitrose, and The Co-op, while also selling its products online. The Spice Tailor could earn an additional payment from Premier Foods based on future performance.
"Additional consideration above the enterprise value of GBP43.8m is structured over a three-year timeframe from year ending 30 March 2024, dependent on future sales growth and subject to a maximum cap of total consideration (comprising initial consideration and additional consideration) of GBP72.5m," Premier Foods said in a stock-exchange filing today (25 July).
A pipeline deal had widely been expected for Premier Foods under Whitehouse's leadership. Presenting year-end results to 2 April in May, the CEO reiterated he was eying bolt-on acquisitions.
Martin Deboo, a managing director at investment bank Jefferies, wrote today: "The GBP44m acquisition of The Spice Tailor … looks well-judged and consistent with the strategy of capital allocation to higher-growth bolt-ons in related categories, without prejudice to the de-leveraging pathway. This, plus the better-than-expected Q1, continues to keep us interested."
Long considered a so-called zombie-case because of overhanging debt, largely due to pension funds from the RHM acquisition, Premier Foods said the meal-kits deal does not digress from the longer-term target to cut leverage to 1.5 times, measured by debt to EBITDA, compared to 1.7 times in its most recent full fiscal year.
Deboo added: "While RHM presaged over a decade of crisis and zombiefication, this current move looks much less risky, and much more astutely judged."
Premier Foods reported first-quarter results last week. Sales climbed 6% to 2 July to GBP197m, with branded growth of 4.2%. The company has, in recent months, alluded to private label becoming less of a priority.
"We're no longer chasing after very margin-thin private-label contracts because, obviously, the focus of the business is on continuing to build the brands," CFO Duncan Leggett explained in November.
Last year, Premier Foods reported sales of GBP900.5m, a decline of 3.6% due to the elevated pandemic-related demand in the previous 12 months. Over a two-year horizon, sales were up 6.3%.
Trading profit was flat at GBP148.3m but was up 11.9% over two years. Adjusted profit before tax climbed 11.4% on a one-year basis and rose 37.6% over two years to GBP128.5m.
Premier Foods shares were up more than 3% in London today after the deal announcement.
Darren Shirley, a retail and consumer analyst at investment group – and Premier Foods' house broker – Shore Capital, wrote: "We warmly welcome the deal, which augments Premier's strength in the category and complements internationalisation, hand-in-glove stuff. If this sets the tone for future such activity, then bright days are ahead, and the equity rating should expand."
Shirley added: "Spice Tailor is an immature label to us that Premier, through its distribution and brand management capabilities, has the potential to materially expand in the medium term. Given the base, the acquisition to sales price is high at 2.5 times. However, we sense Premier 's medium-term ambitions for the brand are considerable, and so the sales multiple should notably compress over the next three to five years."