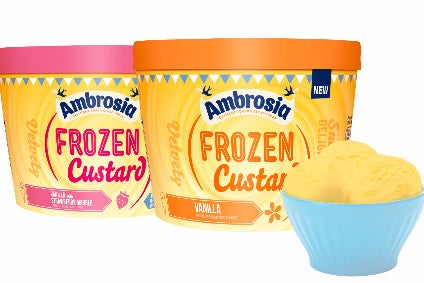 Premier Foods plc reported continued positive progression on its sales this morning (21 July), when it delivered its fourth consecutive quarter of revenue growth.
The company revealed first-quarter group sales increased by 1.9%, with sales for its brands increasing 0.8%. Premier reported growth across both its grocery business, which includes brands like Loyd Grossman sauces and Bisto gravy, as well as its sweet treat unit, which is made up of brands like Mr Kipling and Cadbury cakes, produced under licence from Mondelez International.
Growth was supported by Premier's increased brand investments. During the quarter, the company revealed that its Ambrosia brand returned to growth thanks to the launch of its Deluxe custard range and frozen custard ice cream as well as an increased marketing spend.
CEO Gavin Darby commented: "Our category strategy of investing behind our brands continues to deliver results, despite the wider deflationary grocery market in the UK."
Jefferies analyst Martin Deboo suggested that Premier will need to step up its brand supports in the back half of the year as it laps tougher comps. "Growth was more own-label-weighted than we were looking for, so Premier will need planned H2 innovation programmes to crest them over the tougher comps to come and shift FY mix back toward branded," he noted.
In the second half of the year, Premier said it plans to increase investment behind its Batchelors range, with new products High Veg pots, High Protein Pots and Soup Dippers launched to market. The group said that these products are aligned with consumer demand.
Premier is also stepping up its marketing investment this year: the group expects to invest between GBP42-44m in consumer marketing versus GBP36m last year.
Premier said that its expectations for the year remain unchanged, despite the macroeconomic uncertainty created by the Brexit vote. "While the economic environment is more uncertain following the EU referendum outcome, our immediate financial exposure is expected to be limited. Given our strong brands and UK manufacturing cost base, we believe we remain well placed to make progress and our expectations for the full year remain unchanged," Darby said. The company has previously said it wants to deliver "progress" on last year's performance. Consensus expectations are forecasting trading profit of GBP131m, an increase of around 2%.