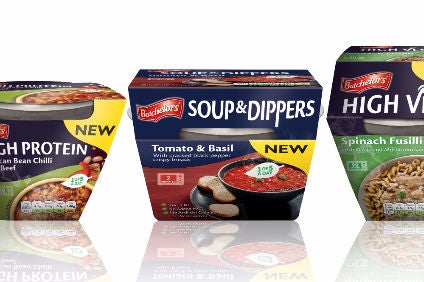 The UK's Premier Foods plc has this morning (15 January) sought to dampen weekend press speculation its Batchelors brand is to be sold to Japan's Nissin Foods Holdings.
The Sunday Times yesterday reported Premier was in talks to sell the brand to Nissin, its largest shareholder. The newspaper claimed the possible sale of Batchelors came out of a strategic review of Premier conducted by Credit Suisse.
This morning, while not dismissing the story out of hand, Premier said discussions had not gone beyond "an exploratory stage".
In a statement to the London Stock Exchange it said: "The board has made no changes to its strategy since the strategic update communicated in our preliminary results announcement on 16 May 2017. The board remains focussed on our strategic objectives, including that of reducing the ratio of net debt to EBITDA below three times.
"On 29 June 2017 the company confirmed that, in line with good corporate governance, it regularly reviews options to deliver value for all its stakeholders. Such reviews do periodically involve discussions with third parties, including Nissin (with whom the company signed a co-operation agreement on 23 March 2016). There is no current situation where discussions have gone beyond an exploratory stage."
Premier said that "as a matter of normal good governance," it continues to "keep under review any options which could potentially add value for shareholders and other stakeholders, and accelerate the delivery of the board's strategic objectives, particularly with respect to reducing gearing".
Nissin Foods Holdings – via its Nissin Foods arm – is best known as an instant noodle maker. Its brands include Top Ramen and Cup Noodles, while it also makes Super Noodle Pots in a venture with Premier Foods.