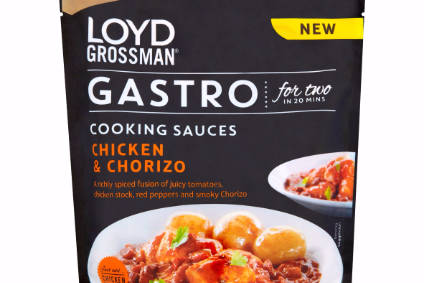 Premier Foods plc, the UK group behind Mr Kipling cakes and Sharwood's cooking sauces, has announced a series of measures to make its products healthier.
The company, which also owns brands including Ambrosia custard and Batchelors noodles, is to further reduce its use of sugar and salt. The programme also includes measures in the areas of NPD and advertising.
"We are leaning very much into this issue and – I would say – opportunity," chief executive Gavin Darby said as he announced the pledges today (17 May). "There are two reasons. One, there is no social alternative, whether it be salt, sugar or calories. It is what great companies should do. It is a big issue – particularly obesity – of our time. Secondly, there are business opportunities. Candidly, if you look through the other end of the telescope, you can always find opportunities. We will find cake, dessert opportunities, which we can serve even better, which are more healthful and which meet the targets."
Premier Foods said it would cut the sugar in its cake, desserts and cooking sauces brands by 4-10% by 2018, compared to the levels in the products in 2015.
On salt, Premier Foods plans to lower its use of the ingredient to meet UK government targets for 2017 in 15 categories. The targets, announced in 2014, took in 76 categories of foods. Premier said all its new products will be "in line" with the targets on salt, Premier Foods said.
The group will introduce "calorie caps" for its Mr Kipling cake products and aim to increase the proportion of its cake sales generated by "single portion packs" from 40% to 50% by 2018.
The commitments take in Premier Foods' development of new products. Throughout the next three years, the company has committed to "ensure at least three-quarters of new products in our grocery portfolio are better-for-you choices". Premier Foods also pledged to launch "nutritious new products, including a range of affordable quick meals with higher levels of fibre, protein and micro nutrients".
Premier Foods' programme also include a move on advertising, with the group pledging to not market foods high in sugar, salt or fat through any media form "directly targeted at children under the age of 16".
Darby said: "There are multiple dimensions to the nutrition plan. The one that is probably the most interesting is the 1,000 tonnes of sugar taken out over three years. It's a huge commitment. It's not easy. Reformulation in cake in particular is difficult. There are some physical characteristics of cake and other categories in sweet treats that makes refprmulation a challenge.
"There are other important dimensions. We've made a commitment to cap our products at a number of different levels. We've made commitments in terms of the proportion of new products that will be seen as more healthful. And we've made a very important commitment in terms of portion control. One of the things Premier is in the best position to deliver is portion control. The Government and health advisors are very very keen to move sweet treat products into smaller portions. Our investment in snack packs and snacking is a drive very much in that direction."
Darby added: "It is the kind of commitment all companies will sign up for. If the industry took 4-10% of sugar out of all its products, we'd make a huge impact on the issue."
Last month, Mars Inc, the owner of rival cooking sauce brand Dolmio, outlined its own measures to make its products healthier, including reducing salt and sugar.
Mars grabbed mainstream headlines with its decision to label products as "everyday" or "occasional" in a bid to "promote healthier food choices".