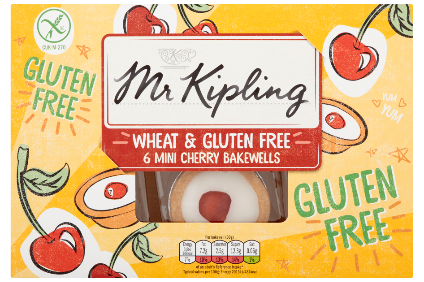 Premier Foods plc is launching a line of wheat- and gluten-free cakes under its Mr Kipling brand in the UK, in a bid to eat into the growing free-from market.
The move, which takes the brand into the free-from aisle for the first time, includes the launch of Mr Kipling's "loaf cakes" – in Apple Crumble, Cherry Bakewell and Lemon & Ginger flavours – in addition to Mini Cherry Bakewells.
The UK group said research by Mintel indicates "nearly one quarter of UK households include at least one allergy or intolerance sufferer". Meanwhile, according to data from YouGov, the UK's free-from market is forecast to be worth GBP673m (US$863m) by 2020.
Premier brand director Jo Agnew said: "The free-from market shows no sign of slowing down and this is being driven not only by the 5% of UK adults who have a sensitivity to gluten, but also those who are cutting down as part of a lifestyle choice."
Each of the loaf cakes serves eight and are available at an MRSP of GBP3. The Mini Cherry Bakewells – with an MSRP of GBP2.50 – are available in boxes comprising three "handy packs" of two. The whole range is being rolled out in Tesco stores across the UK.
In May, Premier, which also owns brands including Ambrosia custard and Batchelors noodles, announced a series of measures to make its products healthier. The group said it would introduce "calorie caps" for Mr Kipling cake products and aim to increase the proportion of its cake sales generated by "single portion packs" from 40% to 50% by 2018.