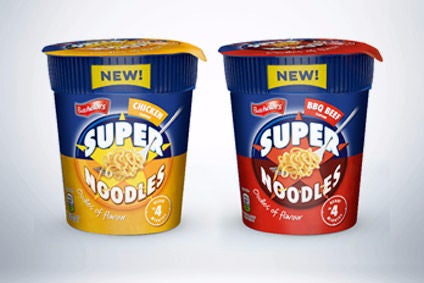 Premier Foods plc today (16 May) indicated it would up its focus on controlling costs and generating cash after the UK group reported its annual results in a "challenging year" for the industry – and one in which its revenue and operating profit rose but its underlying sales and net earnings fell.
The Mr Kipling cake and Bisto gravy maker generated a profit of GBP5.5m (US$7.1m) for the year to 1 April, down from GBP29.2m during the previous 12 months, a period when the company had benefited from a tax credit of GBP47m.
Premier made an operating profit of GBP61.5m, compared to GBP54.5m a year earlier.
The company, which in January issued a warning on its annual trading profits, said that metric came in 9.2% lower year-on-year at GBP117m.
Premier's statutory revenues rose 2.4% to GBP790.4m, boosted by the inclusion of sales from Knighton Foods, the UK powdered drinks and desserts business of which it took full control last year.
Underlying sales were down 1.4%, with Premier reporting a 1% decline for the fourth quarter of the year.
CEO Gavin Darby said: "This financial year has been a challenging one for the industry, with the return of food inflation and changing retailer promotional strategies. Despite this, we have grown market share in six of our eight largest brands, outperformed many of our peers in the latter part of the year and accelerated international sales growth to 18%."
Darby said Premier had tweaked the emphasis of its strategy, with the company deciding to give more attention to its cost base and to generating cash. "With the industry changing rapidly, we have updated our strategy to give an equal focus to revenue growth, cost efficiencies and cash generation," he said.
Reflecting on the results, Jefferies analyst Martin Deboo said Premier had seen "improving momentum" in the fourth quarter despite the drop in underlying sales. Deboo said Jefferies had forecast a 2% fall. "Branded sales decline in grocery has now posted two quarters of sequential improvement following Q2's nadir. This bodes well for FY18 in our view," he added.
At stockbrokers Shore Capital, analysts were less positive, describing Premier's last 12 months as "another tough year with a balance sheet millstone still holding it down". In a note to clients, Shore Capital analysts Clive Black and Darren Shirley wrote: "We note that Q4 FY2017 branded sales fell by 2.4%, which is a momentum that is materially off contributing management's broader aspiration, or was it a target, of 2-4% sales growth."
Premier CFO Alastair Murray claimed the company's new financial year had "started on a solid footing". He added: "The group expects the effect of changing retailer promotional strategies to reduce through the first half of the year and then stabilise thereafter. Accordingly, quarter-two sales are expected to deliver an improved year on year sales trend relative to quarter one In the full year, the group plans to deliver progress which is expected to be weighted more to the second half."
Shares in Premier, down by more than 6% so far this year, had fallen 2.33% on the day to 42p by 08:44 BST.