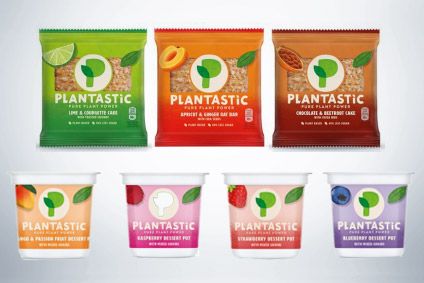 Premier Foods plans to follow other food manufacturers down the direct-to-consumer route to complement the UK company's sales through e-commerce, which swelled to 90% growth in the third quarter.
Alex Whitehouse, the CEO of the Mr Kipling cakes owner, revealed today (19 January) Premier started to test a direct-to-consumer (D2C) platform last week for its Plantastic range of plant-based products following what he says was "another quarter of exceptional growth".
The D2C service is being provided via Amazon's website for a nationwide offering of a three-strong range of flapjacks.
He was addressing analysts on a post-third-quarter results call after reporting this morning group sales rose 9% in the three months to 26 December and were up 12.5% year-to-date. In the branded department, the mainstay of London-listed Premier's business, sales climbed 12.1% and 16%, respectively.
"Another quarter of exceptional growth, particularly for our brands, and the key factor has obviously been the external environment with more people eating meals at home given the restrictions on out-of-home eating," Whitehouse explained. "Focus on the branded growth model has delivered further market share gains and we gained both value and volume share during the quarter."
Whitehouse was asked when he thought the current UK restrictions linked to Covid-19 might be lifted but he responded by saying Premier is following, like everyone else, the government's announcements. He said the business landscape will not change much even if the country resorts back to a tiered system once the lockdown ends.
"From a demand point of view, there is not an enormous difference between the higher tiers of the tier system than there are from lockdown because the key determining factor for grocery product demand is people cooking at home," he told analysts.
Nearly a year ago, Premier completed a long-awaited strategic review, culminating in the merger of two pension funds, thereby removing a financial impediment that had dogged the Batchelors soups maker for some time.
Last April, Premier indicated the net present value of deficit contributions "could" fall by around 45% from GBP300-320m (US$408.5m-$435.8m) to GBP175-185m. And the scheme expenses would save the company around GBP4m annually from the current fiscal year ending 28 March.
The CEO said today net debt as a percentage of EBITDA could fall to below two times "before we get to year-end", a significant improvement from the target of three times in the previous financial year.
Martin Deboo, an analyst at investment bank Jefferies, wrote in a note to clients this morning: "Sustained improvement in household penetration, market share and brand investment, which is collectively delivering both growth and debt reduction, is laying the foundations of a better and more conventionally-financed Premier Foods for the future. The challenge is to navigate expectations through FY22, where we expect normalisation of demand patterns to lead to some sales contraction."
Meanwhile, this morning's earnings release contained an announcement of a deal with Canada-based bakery supplier Weston Foods in the US to distribute and market Mr Kipling cakes as part of Premier's growth strategy in international markets. The UK accounts for the bulk of Premier's annual sales and the company's track-record outside its domestic market in recent years has been patchy.
North America, including Canada, is a key area of Premier's renewed international focus, along with Australia, New Zealand and Ireland, but Whitehouse confirmed there are no plans at this stage to enter new markets. He did note Premier, outside of the UK, trades in Europe through a distributor network – "a small business, particularly in cooking sauces, that's going very nicely".
He added: "Clearly, North America represents a really exciting and interesting prospect. It's an enormous market – the cake market in the US alone we believe is worth about $4bn. So if we can take a piece of that, that would be very exciting. What we want to do is to validate whether or not we can translate the Mr Kipling brand and our Mr Kipling support models into those territories."
Whitehouse said distribution of Sharwood's sauces in the US was "significantly expanded" during the quarter, while in Canada, "the in-market test we are running on Mr Kipling in around 300 stores is delivering some encouraging early results".
"We have made good progress on executing our strategy for overseas markets," Whitehouse said.