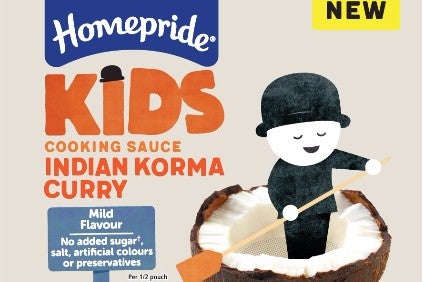 Premier Foods plc, the UK group, has launched a range of sauces aimed at children under the Homepride brand, which are said to be inspired by some of the country's most popular ethnic and Italian dishes.
The Homepride Kids range comprises three pasta sauces which each contain 80g of "hidden veg" per serving, and four "world inspired" cooking sauces, designed for children aged between four and seven years old. They contain no added sugar or salt and are free from artificial colours and preservatives.
"The Homepride Kids range presents retailers with a big sales opportunity," Yilmaz Erceyes, Premier's brand director for cooking sauces, said.
Erceyes, citing ONS data, said there were 2.8m families in the UK with children aged between four to seven, claiming, therefore, there is a gap in the market for products targeting that age group.
He added: "By creating mild but adventurous flavours, the range will train younger taste buds to explore different meals so that they can enjoy the same dishes with their parents sooner rather than later."
The new pasta sauces include Bolognese, Cheesy Tomato and Tomato & Mediterranean vegetable. The cooking sauces are said to be inspired by Britain's favourite ethnic dishes and include Caribbean Sauce with Mango, Indian Korma Curry, Chinese Sweet & Sour and Thai Creamy Sauce.
The sauces can be heated on the hob or in the microwave, come in a pouch containing two servings and have a MRSP of GBP1.29 (US$1.67) each.