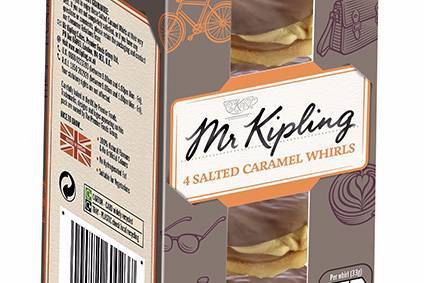 Premier Foods plc booked a return to growth this morning (10 November), marking the first time that the Mr Kipling maker has posted an increase in branded revenue for two years.
Total sales for the six months ended 3 October were GBP341.2m (US$515m) compared to GBP339.7m in the prior year, an increase of 0.4%. Growth returned in the second quarter, the company revealed, when sales rose by 2.4%.
Branded sales increased 1.6% in the period and non-branded sales gained 10.6%.
"This represents the first quarterly branded sales growth for two years," Premier stressed. "The company is particularly pleased by the return to branded sales growth demonstrated both in the half and the second quarter of the year. This provides further evidence that the company's strategy of investing behind its brands, bringing exciting new products to market and working in even closer partnership with its customers, is delivering tangible results."
First-half trading profit was GBP50.6m, 8.4% higher than the prior year. EBITDA increased to GBP58.3m versus GBP53.4m, up 9.2%. Post-tax profit increased to GBP21.7m, compared to a loss of GBP49.1m last year on lower finance costs and an improved operating performance.
Premier confirmed it expects to deliver positive branded sales results in the upcoming third quarter, supported by higher marketing spending and anticipated gains in sweet treats.
The company confirmed its full-year expectations for fiscal 2015/16, with consensus analyst forecasts looking for EBITDA of GBP131m. The company is working towards a group-wide sales growth target of 1-2%.
Premier also announced plans to launch a range of premium, artisanal home-baking products in conjunction with baker Paul Hollywood. The range, to be called Paul Hollywood, aims to "help revitalise" the home baking category, which is increasing in popularity
The news was welcomed by Jeffries analyst Martin Deboo, who wrote: "The sales impact [of the Paul Hollywood launch] might ultimately be small, but the symbolism isn't: Premier are demonstrating a growing ability to capitalise on consumer trends, while people with reputations to lose are showing confidence in the company. A final dusting of icing sugar then, on a well-risen first-half."