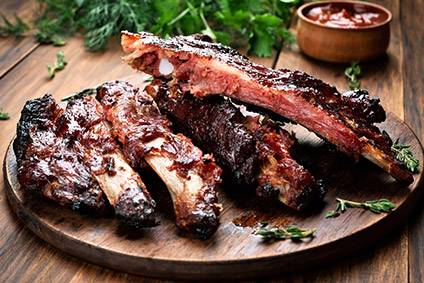 Canadian food company Premium Brands Holdings has made its second acquisition of a meat business in less than ten days with the purchase of Skilcor Food Products for an undisclosed amount.
Richmond, British Columbia-based Premium Brands bought Canadian meat company Leadbetter – the maker of Cowboy steaks and burgers – on 20 September and today (28 September) added to its roster with the purchase of Ontario's Skilcor, best known for its ready-cooked pork ribs.
Skilcor, which also sells a range of branded packaged meats including chicken drumsticks and Italian-style meatballs, has annual sales of approximately CAD27m (US$21.7m) and operates from a 34,000 sq ft facility in Brampton.
Premium Brands CEO George Paleologou said: "Skilcor further strengthens our rapidly growing presence in central Canada's protein manufacturing and protein distribution segments.
"It will not only expand our portfolio of products but will also give us specialised production capacity that will enable us to provide customers with premium quality, differentiated protein solutions in the high-growth ready-to-eat product category.
"In addition, Skilcor's experienced and talented management team will further enhance the depth of our protein platform in central Canada."
Deborah Kinzinger, founder and chair of Skilcor, added: "I have no doubt that Premium Brands is the right partner for us, our company and our people.
"I am very proud of our team, our culture and our products and of how much we have accomplished since Skilcor was founded back in 1969."
Premium Brands also has stakes in meat businesses Harvest Meats, Hempler's, McSweeney's and Made-Rite.