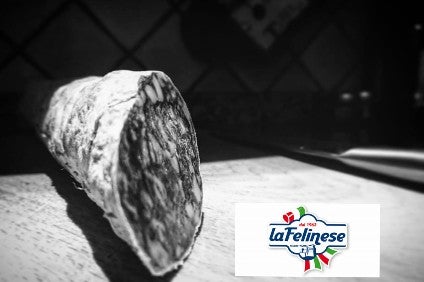 Canada's Premium Brands Holdings has revealed it recently completed a slate of acquisitions, including the branded food manufacturer's first purchase outside of North America.
President and chief executive George Paleologou had suggested last year that the business may be poised to make its first M&A foray into Europe and has now done so with a 16.7% stake in La Felinese Salumi, a dry-cured meat producer based in the Italian province of Parma.
In conjunction with the release of its fourth-quarter and full-year results today (12 March), Premium Brands also said it has acquired Bavarian Meats, which makes branded meat snacks and premium deli meats for the US Pacific Northwest.
And it has also snapped up Inform Brokerage, a brokerage and "speciality" food distribution business based in British Columbia.
Premium Brands said the combined deals were instigated for CAD32.8m (US$23.7m).
Paleologou said La Felinese is currently a "strategic" supplier to "several" other of the group's businesses "and has played a key role in helping us build our very successful Canadian charcuterie business.
"Our investment in La Felinese not only reflects our respect for its management team and operations, but also our confidence in the growth opportunities for our charcuterie lines in both Canada and the US."
On the earnings front, M&A-acquisitive Premium Brands reported an almost 21% increase in revenues to CAD3.65bn in the year to 28 December, and a 22% gain in adjusted EBITDA to CAD307.7m. However, on the base line, earnings dropped 14% to CAD84.2m.
And Paleologou suggested more acquisitions are on the cards, despite a slew of deals in the past couple of years, many in the US, which now accounts for almost 40% of the company's total sales.
He added: "We are continuing to make solid progress in growing our various platforms in Canada and the US, and are particularly pleased with the progress made in several key product categories including value-added seafood, artisan sandwiches, premium dry-cured meats and meat snacks.
"Looking forward, I have no doubt that 2020 will be another very busy year for acquisitions as our pipeline remains full and includes both large platform opportunities as well as strategic bolt-on transactions that will strengthen our existing businesses."
Nevertheless, the CEO had a warning about the potential implications from coronavirus, or Covid-19, for its sales.
"While we remain confident in meeting or exceeding our goal of CAD6bn in sales and CAD600m in EBITDA by 2023, we are taking a cautious approach to what the short-term future may hold," Paleologou said. "This is largely due to the recent outbreak of Covid-19 and its possible impact on demand in certain sales channels as it is already impacting consumer consumption patterns, supply chains and the overall level of economic activity in many other markets around the world."
As well as coronavirus, Premium Brands is exposed to the African swine fever (ASF) outbreak, which also broke out in China, around the summer of 2018, and has decimated hog herds. For exporters to the Asian country, ASF provides opportunities, but presents risks for importers of Chinese products around the world.
Premium Brands noted: "Based on there being a significant amount of uncertainty on how the recent ASF outbreak in China will, over the course of 2020, impact the cost of commodity pork and beef products purchased by a number of the company's protein and distribution businesses, it is providing two adjusted EBITDA ranges for its 2020 guidance: one is based on a relative normal commodity environment and the other on an inflationary environment similar to that of 2019."
To that end, adjusted EBITDA guidance for 2020, including estimates from ASF, has been set at CAD320m to CAD345m. Excluding any impact, the target is CAD335m-360m.
Meanwhile, the outlook for revenues, based on the current portfolio of businesses, is for between CAD3.98bn and CAD4.08bn, which would represent an increase of 8.9% to 11.7% over 2019.