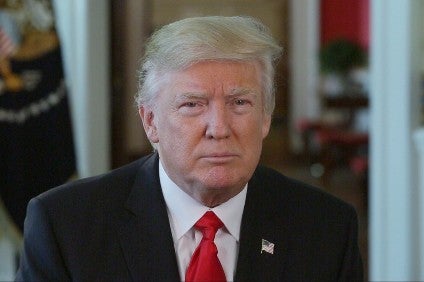 Tweets from US President Donald Trump over the weekend suggest he is willing to escalate the on-going trade war between his country and China.
Trump said on Sunday (5 May) that he would increase tariffs on US$200bn in Chinese products to 25% from 10% on Friday (10 May). He also said that he would "shortly" put duties on the $325bn in Chinese goods currently not subject to tariffs.
Many food items, including meat products, have already had tariffs imposed on them as part of the trade spat.
The timing of his Tweets is interesting given that on Friday (3 May) Trump said the trade talks were going well and a Chinese delegation was due to travel to the US this week for trade talks. Doubts now surround whether that meeting will happen, although US media outlet CNBC, quoting sources familiar with the matter, suggests they will.
Trump said in his Tweet: "US$325bn of additional goods sent to us by China remain untaxed, but will be shortly, at a rate of 25%. The tariffs paid to the USA have had little impact on product cost, mostly borne by China. The trade deal with China continues, but too slowly, as they attempt to renegotiate. No!"
London-based The Guardian newspaper reported Chinese state media remained silent following Trump's announcement.
News agency Reuters pointed out that an increase in US tariffs on Friday would be the first since Trump imposed 10% levies on $200bn of Chinese goods in September, coming on top of 25% tariffs on $50bn of goods enacted earlier that year.
China retaliated to the September move by imposing retaliatory tariffs of 25% on a wide range of US products exported to China including certain chicken, beef and lamb lines.