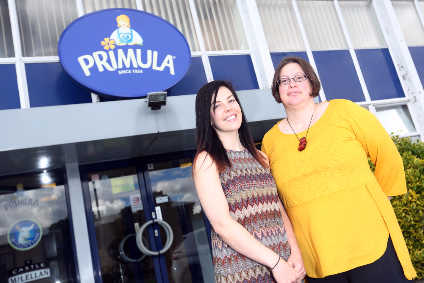 Primula Cheese has created a dedicated innovation department within the business to focus the brand on "the ever changing needs of the consumer".
Primula said it has been joined by Peggy van Rooyen to head up the department in the new position of product innovation manager.
Primula said the role "will focus on the future of the company, including identifying new processes and spotting opportunities for both growing Primula's place within the spreadable cheese category but also how it can move into adjacent categories".
Van Rooyen, who is originally from South Africa, worked as a sous chef at celebrity chef Yotam Ottolenghi's restaurant group in London, before becoming a private chef catering for events and high net worth individuals in Europe. She also established Glamour Puds – the UK manufacturer of gluten, dairy and soya-free desserts.
Primula said van Rooyen will be joined in the new department by product process developer and nutritionist Jamilee Coull. Primula said Coull's role will be "the vital link between the NPD team and the production process, ensuring creative ideas can become commercial realities".
Van Rooyen and Coull will be based at Primula Cheese's UK headquarters in Gateshead. Primula said the new roles come as the group finalises a two-year long period of company, product and category research, which included in-depth customer profiling to further define the group's place in the market.
Head of marketing Lisa Thornton said: "Primula is an ambitious company, however to develop our growth plan we knew we needed to invest in getting under the skin of how we are perceived and where we sit within the category. Our new innovation team is central to Primula's business strategy and, while we've had NPD teams previously, we see this as a vital element to our business so are exploring a different approach and we can't wait to see the results."

Kavli UK, the company behind Primula, is wholly owned by the Kavli Trust, a charitable trust committed to supporting good causes.