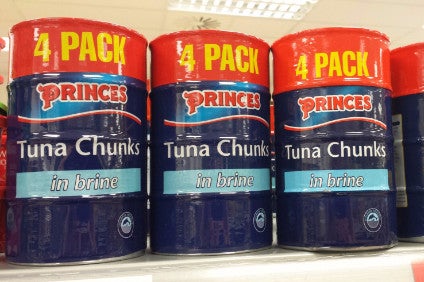 Princes, the UK-based food and drinks group, has reported a rise in annual profits for its most recent financial year, despite the company, owned by Japan's Mitsubishi Corp., seeing sales fall.
The company posted profits of GBP43.5m (US$53.7m) for the 12 months to the end of March, up from GBP42.1m a year earlier. Operating profit stood at GBP57.8m, compared to GBP55.5m, the figures filed this week at Companies House showed.
Princes posted a 3.5% fall in revenue to GBP1.48bn. The canned food supplier pointed to "deflationary pressures in the market".
The company said its largest 10 customers accounted for 66.4% of revenue, down from 70.5% a year earlier, which it said "reflects the expansion in Europe with different customers".
In January this year, Princes set up a sales and marketing office in France to help it grow its business in the country and in other markets in Europe. Princes, based in Liverpool, also has offices in the Netherlands, Italy and Poland.