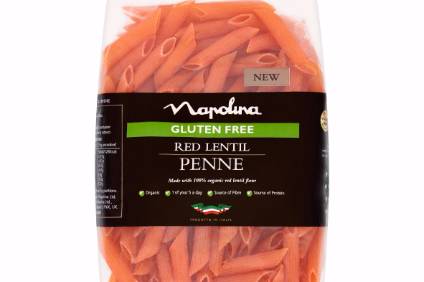 UK-based food and drinks group Princes has added gluten-free variants to its Napolina vegetable pasta range, marking the brand's first move into the free-from market.
Princes, which is owned by Japanese conglomerate Mitsubishi Corp., said the new "100%-organic" line, comprising Green Pea Fusilli and Red Lentil Penne, is part of a continuing programme of new product development for the brand, aiming "to tap into key market trends such as health, convenience and premiumisation".
Marketing director for Napolina Neil Brownbill said: "The gluten and wheat-free market continues to grow rapidly and represents a significant opportunity for Napolina to deliver further category growth."
Brownbill said: "Napolina's strong brand awareness and consistent product quality will help drive sales and can add value to both the main fixture and the free-from fixture."
In addition to being gluten-free, Princes said the new products "are a source of protein and fibre, with a 75g portion counting as one of the recommended five-a-day portions of fruit or vegetables".
The new line is currently available in Sainsbury's in the UK priced at GBP2.00 (US$2.59).
The launch follows the addition of a 50%/50% pasta with 'hidden wholewheat' to the Napolina range last year.