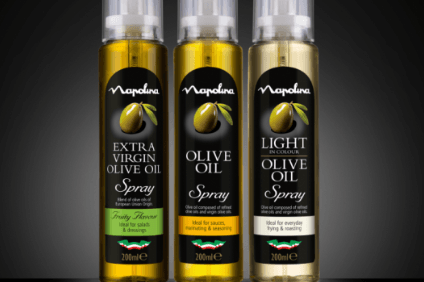 Napolina, the Italian cooking brand owned by the UK-based food and drink group Princes, is launching a range of spray olive oils to align with market trends such as health, convenience and premiumisation.
The company said the three-strong range of sprays was part of "an on-going cross-category programme of insight-led NPD".
Citing data from IRI, Neil Brownbill, marketing director for Napolina, said: "As the olive oil value and volume brand leader over 24 weeks and 12 weeks, Napolina is ideally placed to launch a full range of convenient spray products. Spray oil has shown sustained growth over the last five years (+133% in value) and is now an important part of the category.
"Our cross-category strength and Italian heritage will work to our advantage as we continue to expand our olive oil portfolio, and we believe our trusted brand status will encourage trial from consumers looking for a convenient means of portion control without compromising on quality."
The firm is also expanding its pulses range with the launch of 400g canned lentils, tapping into the increasing number of consumers reducing meat consumption and opting for a flexitarian/vegetarian diet.
Brownbill said: "Expanding our successful pulses range represents a real opportunity for the Napolina brand to align with wider consumer trends and will support the category as a whole."
Princes is owned by Japanese conglomerate Mitsubishi Corp.