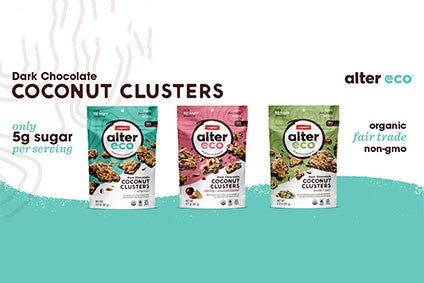 US private equity firm NextWorld Evergreen has acquired San Francisco-based healthy indulgence food brand Alter Eco Americas.
Alter Eco makes chocolate-centric snacks such as clusters, bars, and truffles, with markets in the US, Canada, Australia and New Zealand. NextWorld Evergreen, which is also located in San Francisco, is focused on the consumer and retail industry.
Financial terms of the deal were not disclosed.
Co-founders Edouard Rollet and Mathieu Senard, who are also joint chief executives of Alter Eco, along with president Kate Tierney, will remain in their roles, according to a statement from the firm.
CEO Rollet said: "Thanks to NextWorld Evergreen's long-term vision and philanthropic affiliations, we'll be able to continue to grow our impact and preserve our mission, while benefiting from NextWorld Evergreen's experience in consumer goods to accelerate Alter Eco's growth in the indulgent, clean, healthy and ethical food space."
Senard added: "Today marks a thrilling new era for the brand by joining NextWorld Evergreen's portfolio, and we will continue to innovate and promote a model where people and the planet can benefit from a flourishing business – where companies regenerate rather than extract."
Alter Eco said its products are made with ingredients that are USDA-certified organic, verified by the Non-GMO Project and Fair Trade Certified, sourced from farmer cooperatives around the world. The company's range includes its Dark Blackout chocolate bar, Salted Caramel Truffles, and Dark Chocolate Coconut Clusters.
The company supplies Whole Foods Market, NCG, NGVC, Sprouts, Wegmans, Infra, Earth Fare, Raley's, New Seasons, Fresh Market, Kroger, Publix, and independent speciality and natural food retailers.
"We are excited to partner with the outstanding management team at Alter Eco, which has built a remarkable company based on a set of values and amazing-tasting products, while succeeding in being good stewards of the world we live in," said David Fife, a partner at NextWorld Evergreen. "We see tremendous opportunity to accelerate the company's growth while taking very seriously our stewardship of the Alter Eco brand."