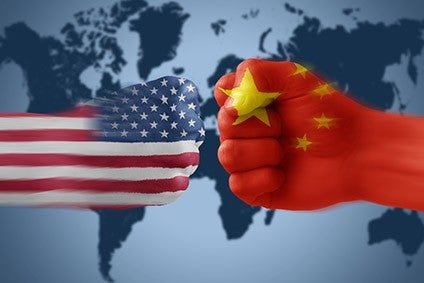 The US and China have signed "phase one" of a trade deal in which the two countries have made concessions to bring an end to a long-running trade war that has disrupted global markets and caused uncertainty among manufacturers on both sides.
President Donald Trump and Vice Premier Liu He inked the deal yesterday (15 January) following a preliminary agreement last month under talks started in October and designed to end tit-for-tat tariffs started in the summer of 2018. In December, Trump cancelled a new set of tariffs due to be imposed on Chinese goods after Beijing pledged to purchase more US soybeans, poultry and other agricultural products.
In a notice posted yesterday by the United States Trade Representative (USTR), the signed agreement commits Trump to halve some of the tariffs already imposed on Chinese goods, essentially cutting the levy from 15% to 7.5% on US$120bn of products imported from the Asian country.
Meanwhile, China has pledged to import around $200bn worth of American products and services, on top of the value of imports in 2017, covering four key and broad categories.
On the Chinese side, the deal covers US manufactured goods such as industrial machinery, aircraft, iron and steel, and chemical products. China has agreed to import at least $120bn under those categories this year, and at least $131.9bn in 2021.
And the deal also covers US agricultural products, such as soybeans, cotton, grains, meats, ethanol, seafood, "and the full range of other agricultural products" valued at $80bn over the next two years. China will "also strive to purchase an additional $5bn of agricultural products annually", USTR said.
It continued: "China's increased imports of US goods and services are expected to continue on this same trajectory for several years after 2021 and should contribute significantly to the rebalancing of the US-China trade relationship."
The other two major categories include energy products such as crude oil and liquefied natural gas, and services, such as financial and insurance.
USTR said: "The Phase-One economic and trade agreement signed by the United States and China on January 15, 2020, commits China to undertake structural changes to open up its economy and improve its trade regime. It is expected that these changes and other trade liberalisation being pursued by China will lead to improved trade flows benefiting China's trade partners, especially the United States."
A sub-section of the USTR report covering agricultural products, intellectual property, technology transfer, financial services, and currencies noted: "The agriculture chapter addresses structural barriers to trade and will support a dramatic expansion of US food, agriculture and seafood product exports, increasing American farm and fishery income, generating more rural economic activity, and promoting job growth.
"A multitude of non-tariff barriers to US agriculture and seafood products are addressed, including for meat, poultry, seafood, rice, dairy, infant formula, horticultural products, animal feed and feed additives, pet food, and products of agriculture biotechnology."