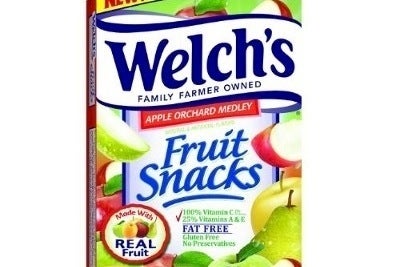 The Promotion In Motion Companies, which manufactures Welch's fruit snacks under licence from Welch Foods, is expanding its offering with the launch of Welch's Apple Orchard Medley.
Welch's Apple Orchard Medley contains 100% of the RDA of vitamin C and 25% of vitamins A and E, linking in to growing consumer demand for fortified or better-for-you fruit snacks. They are made from fruit and are gluten, fat and preservative free. Flavours include: granny smith apple; golden delicious apple; red delicious apple; apricot and juicy pear.
"When we considered what our next variety should be, the delicious, crisp fall tastes of Orchard Fruits were a natural fit," said Josh Shapiro, VP of marketing for The Promotion In Motion Companies. "And like all of our fruit snacks, they reflect our core commitment to providing fun, delicious, and smart treats for the whole family to enjoy."
Welch's Apple Orchard Medley fruit snacks will be offered throughout the US in ten-count boxes with suggested retail pricing of US$2.99, and 5oz peg bags with a suggested retail of US$1.79. Additional package types will be released over the course of the year including club packs, vending packs, single serve bags, fun size and larger peg bag formats, the company said.