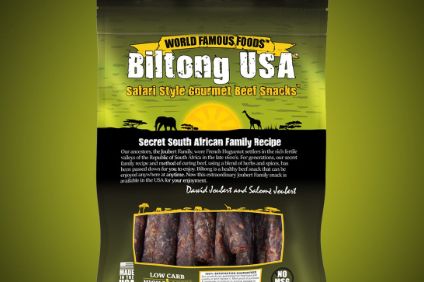 Dallas-based protein snacks start-up Stryve Foods has acquired Biltong USA, one of the first United States Department of Agriculture-approved biltong manufacturers in the country.
North Carolina-based Biltong USA, produces sliced beef biltong, droëwors, and other related products. It claims to have a secret family recipe and method of curing beef.
Stryve, which has not disclosed the financial details of the deal, said Biltong USA will continue to offer its products under its current brand while also producing for Stryve Foods.
Biltong, a form of dried, cured meat that originated in southern Africa, is less well known in the US than rival dried meat products such as jerky, but it is tipped as a product which could experience rapid growth there.
Gabe Carimi, CEO of Stryve Foods, said: "This is a major accomplishment for our young brand and a huge step towards bringing awareness about this amazing product to the US. We're ready to make huge strides in the meat snack industry."
Stryve Foods, which was established only last summer, makes protein-based products such as turkey and chicken bites baked with fruit pieces, beef, turkey and pork sticks and beef biltong.
It was founded by sports nutrition veterans Ted Casey, founder of Dymatize, Joe Oblas and TJ Humphreys, founders of Prosupps, and Gabe Carimi, a former NFL first-round draft pick.