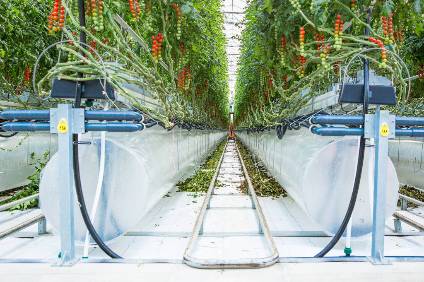 Pure Harvest Smart Farms, a UAE-based agri-tech business, has raised US$60m from the bond and equity markets.
The company is engaged in vertical farming, growing fresh fruit and vegetables in greenhouses without the need for fertilisers and pesticides, with the added advantages over traditional methods of greater yields, year-round production and less water.
Most of the funds were secured by the sale of a $50m Islamic bond or sukuk arranged by Dubai-based investment banking firm Shuaa Capital, which contributed to the financing via the debt issue.
Franklin Templeton, the US headquartered asset manager, and Sancta Capital, an investment company in Dubai, also invested via the bond issue.
Pure Harvest, which produces tomatoes, leafy greens and berries, raised a further $10m from equity investors led by Sancta Capital in January.
Co-founder and CEO Sky Kurtz said in a statement: "We are thrilled to have secured this innovative structured financing solution that supports our aggressive growth campaign within the GCC region. We are passionate about our mission to make local-for-local production of high-quality fresh produce possible anywhere, including within the harsh climate of our home, the Arabian Gulf.
"World events like the Covid pandemic highlight the critical need for home-grown food solutions to reduce our reliance upon international supply chains."
Founded in 2017, Pure Harvest will use the funds to expand in the region. It is about to complete construction of its second high-tech greenhouse in the UAE and also its first growing system in Saudi Arabia. The company also plans a EUR39m (US$46.3m) project in Kuwait.
Natasha Hannoun, who led the bond transaction at Shuaa, said: "We are delighted that Shuaa has been able to deliver this innovative and highly complex structured financing solution for Pure Harvest Smart Farms.
"This funding will help the company to scale into a major regional player in controlled-environment agriculture and we are excited to back the region's ag-tech champion when it comes to food security, sustainability and economic diversification."
A Pure Harvest spokesperson told just-food the tomatoes are currently supplied to retailers Waitrose, Spinney's and Carrefour in the UAE, with plans to launch into Kuwait and Saudi Arabia in the "near future".