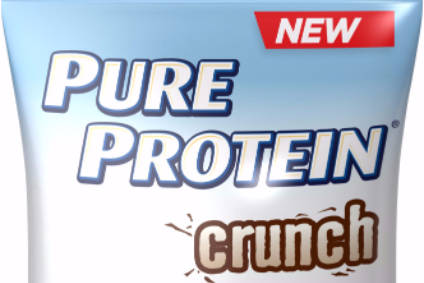 Pure Protein, the US based protein snack maker, is launching a new bite-sized product, Pure Protein Crunch.
The snacks target "physically active" on-the-go snackers, the company said. They come in two flavours: double chocolate and peanut butter.
"Today, busy people are turning to convenient, protein-packed snacks to fuel their on-the-go lifestyles," said Monique Acevedo, VP for Pure Protein. "With Pure Protein Crunch, they now have a full-flavoured, portable protein option with five grams of sugar that helps keep their unpredictable lives on track with the same great taste and protein they expect from the entire Pure Protein product line."
Each 1.20 oz. single-serving pouch of Pure Protein Crunch contains 10 grams of protein. The line is made with non-GMO ingredients and are gluten-free.
Pure Protein Crunch is rolling out throughout the US.
Pure Protein launched its first protein snack bar in 1995. The group said it hoped through this latest launch, it would be able to tap into the growing trend for bite-sized snacking options in the US.