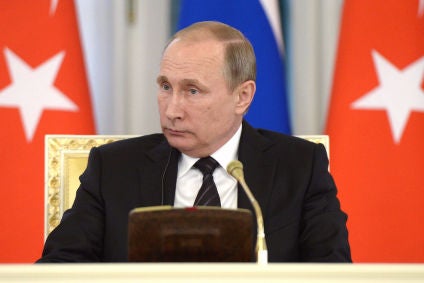 Vladimir Putin has reportedly said he wants Russia's ban on certain food imports to run for as long as possible.
Putin is said to have made the comments last week at a forum held by the All-Russia People's Front. According to a transcript published on the Kremlin's website of a question-and-answer session at the forum, Putin was asked by businessman in the meat sector to prolong the embargo, which has been in place since the summer of 2014 and in June was extended to the end of next year.
The transcript shows Russia's President replied: "I understand you and I can whisper in your ear that we will prolong them as long as possible."
Moscow introduced the embargo in 2014 as a counter-measure to sanctions imposed by western governments in protest at Russia's annexation of the Crimea from Ukraine. Russia extended the ban for a second year last August.
Foods covered by the ban includes beef, chicken, pigmeat, dairy, fish and shellfish products, nuts, fruits and vegetables, but excludes special supplements, specialist sports, baby and children's foods and certain vegetables for planting.
How do you see 2017 panning out for your business? – take the just-food Confidence Survey now