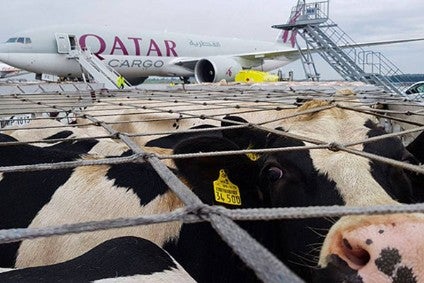 Baladna Food Industries, a Qatar-based business that built a dairy farm in the desert north of Doha, has revealed details of its initial public share offering first announced last year.
The company is planning to issue 1,425,750,000 shares representing 75% of its total issued share capital, while the remaining 25% of the business, or just over 475 million shares, will remain in the hands of its five founding members, according to the prospectus.
Baladna has set the IPO price at QAR1.00 a share, meaning it could raise as much as QAR1.426bn (US$391.8m) from individual and corporate investors. It plans to register as a public shareholding company on the local exchange on 26 November.
The IPO has taken longer to come to fruition than Baladna had originally intended. When it announced the share plan in January last year, the company said it expected to launch the IPO in the second half of 2018.
Baladna built a dairy farm in the desert located at Umm al-Hawaya after Saudi Arabia, the UAE, Egypt and Bahrain cut diplomatic ties. The company imported cattle from Europe and the US for the project to produce milk and milk products.
The prospectus noted that so-called strategic investors have already made prior commitments to the offer, constituting 25% of the IPO. Of the remaining 52%, one "special share" will be allocated to the Qatari government through the ministry of commerce, leaving the rest to individual and corporate investors.
"Following the offering and allotment of subscribed shares to investors, non-Qataris (individuals and legal entities) will be able to own up to 49% of the shares of the company," Baladna said in the prospectus.
It added: "Prior to the offering, there was no public market for the shares. The company shall, prior to the date of closing of the offering, submit an application to the Qatar Financial Markets Authority and Qatar Exchange to list the shares on the Qatar Exchange and shall allocate the offer shares and refund excess amounts, if any, to investors by no later than 21 November."