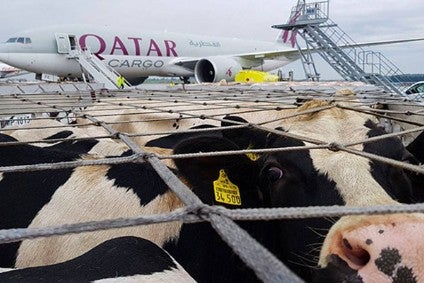 Qatari dairy company Baladna is said to be planning an initial public share offering in the first half of this year.
Baladna has built a dairy farm in the desert located at Umm al-Hawaya, north of Doha, after Saudi Arabia, the UAE, Egypt and Bahrain cut diplomatic ties in June. The company imported cattle from Europe and the US for the project to produce milk and milk products.
"In partnership with a group of businessmen and local citizens, Baladna plans to launch its IPO in the first half of 2018," Reuters reported the company as saying in a statement on Sunday (14 January).
While the size of the planned IPO was not provided, Reuters quoted a source as saying it could be in the region of QAR2bn (US$549.4m), stressing that a final figure had not been fixed.
The company plans to start production of fresh juice and animal feed in May, Reuters said, adding Baladna is also seeking to construct chicken farms producing meat and eggs. Building work is due to begin this month and be completed around the middle of 2019. Once the facilities are up and running, the plants will be capable of producing 42m of broiler chickens and 200m eggs annually.

Baladna, which is owned by Qatari businessman Moutaz Ramez Al-Khayyat, also plans to convert all waste on its farms to organic fertiliser to meet market demand.