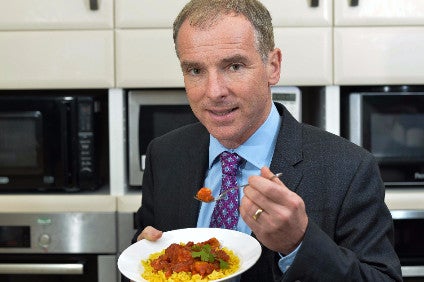 Quorn Foods chief executive Kevin Brennan has questioned the health and sustainability credentials of rival products in a meat-free category set to see an "arms race" of investment.
Brennan, who has led the UK-based business for more than a decade, acknowledged competition in the meat-free market was growing around the world as industry and investors sought to tap into consumer concerns about the impact meat consumption can have on health and the environment.
However, speaking at the a conference in London convened yesterday (25 September) by investment bank Houlihan Lokey, Brennan said companies and investors needed to consider how healthy and environmentally-sustainable the products they were developing or backing are.
"If you are trying to win in this space – or you're trying to invest in the space, or you're thinking of buying something in this space – the things you've got to think about are: have you got a great protein? Is it really, really healthy?" Brennan said.
"There are a lot of products I think that are taking the halo of this space, with the consumers thinking that as it's plant protein it's healthy. It depends. If you put any coconut oil in it, it ain't healthy."
Brennan told the Houlihan Lokey 2019 European Consumer Food & Retail Conference one investment bank had recently forecast the global meat-alternatives market could grow to US$20 trillion in value.
He said Quorn, owned by Philippines-based food and beverage group Monde Nissin since 2015, was "confident" demand for meat alternatives was "going to be a 20, 30-year food trend" and was "going to be [worth] many trillions", adding: "I don't know if it's going to be $20trn or not but it's going to be bloody big.
"There's going to be a challenge in this industry because if it's going to be $20trn, that's a lot of soy protein, a lot of pea protein that somebody is going to plant somewhere. You've already got deforestation being caused directly by the use of soya in the industry. That's going to be very difficult to do in a sustainable way as this category grows in terms of those types of proteins. It won't be an issue for us. Fermenters don't need a lot of land."
Brennan also questioned the quality of some the products being launched into the meat-free market and claimed there were signs growth in some markets was being affected.
"I see more and more great products come onto the market but … there's people coming into this category in the last five years, just making food that takes five minutes to knock out of a co-manufacturer. That's really poor and at times damaging for the category," he said. "I think in markets like Germany that the category is stalling because so many bad products have been put on the market, massive trial, awful repeat rates. If you're going to win in this space, the food has got to be good, everything is got to be good that you produce, otherwise you get great trial, and lousy repeat rates."
Quorn, the former Kellogg executive insisted, was "well placed" to prosper in what he sees as a market that will continue to grow and continue to see interest from investors.
"We, owned by a private business, have the ability to invest in what is going to be 20 or 30 years of growth," Brennan said. "That's going to be necessary. Silicon Valley are pouring money in. Big Food is now pouring money into this category. It will become a bit of an arms race and if you haven't got the money to stay in it, it's going to be very, very difficult to compete. We are very well positioned against that. I don't underestimate competition in the space but we really feel we're well placed to be one of the winners in that space."