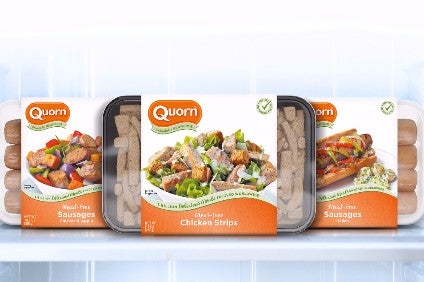 UK meat substitute firm Quorn Foods is expanding its US business out of the frozen foods aisle and into the chilled foods section of supermarkets.
The company, owned by Philippines group Monde Nissin, is launching a line of refrigerated products in the US include sausages and chicken strips.
Quorn's new refrigerated line will be available at nearly 1,500 Kroger stores and sister chains such as Fred Meyer, King Soopers and Ralphs.
Ben Sussna, head of marketing at Quorn's US arm, said: "The launch of the Quorn refrigerated line at Kroger marks an exciting new chapter for Quorn Foods in the US.
"We are continuously looking for new and innovative ways to make reducing meat consumption tastier, healthier, and more convenient for consumers.
"To that end, Quorn's new refrigerated products provide consumers with endless choice and versatility to prepare delicious and healthy meatless meals."
All Quorn products are made with Quorn's proprietary ingredient, called Mycoprotein.
Quorn says its products have as much protein as eggs and are also "great for the environment" with a carbon footprint more than 90% lower than beef and more than 70% lower than chicken.
Following a recent court case in the US, Quorn has agreed to change the statement on its product labels there. They inform customers that its products contain mold and could cause an allergic reaction.