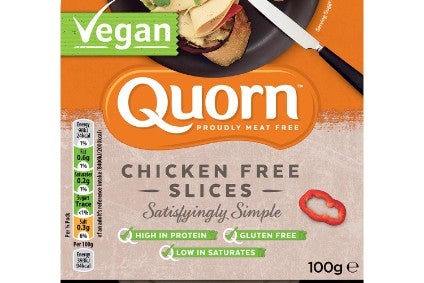 just-food publishes the most notable product development from the international food sector, presented in bitesize format to give you a flavour of the innovation from your peers and competitors announced this week.
Quorn vegan slices feature in product launch
Quorn, owned by Monde Nissin of the Philippines, will launch four more products later in January as the UK meat-free brand embarks on its biggest-ever marketing campaign.
Following record 2017 sales of GBP19m (US$25.7m), the Yorkshire-based company plans to spend GBP14m this year to promote its product line-up to people seeking healthier lifestyles.
Due to hit the shelves this month are two vegan dishes and two ready meals:
Vegan Chicken Free Slices will be priced at a RSP of GBP2 for a 100-gram pack
Vegan Smoky Ham Free Slices – RSP GBP2 – 100g
Oriental Stir Fry – RSP GBP2.79 – 400g
Jambalaya – RSP GBP2.79 – 400g
Julian Cooke, Quorn's head of category management in the UK, said: "Vegan continues to be a growing modern food trend with an increasing number of consumers adopting vegan diets as a way of life and some dipping in and out throughout the year as a way to eat more healthily."
JBS launches premium beef brand '1953' in supermarkets
Brazilian meat giant JBS has launched a premium beef brand, 1953, into supermarkets.
1953 – referring to the year the company was founded – is based on beef cuts previously only supplied to restaurants.
The brand will reach the shelves of retail chains later this month.
The 1953 product portfolio features fourteen types of cut – baby beef, ancho steak, chorizo ??steak, breast, rump bonbon, diaper, steak, filet mignon, chuck eye roll, steak steak, empty, shoulder steak, heart pallet and front rib.
ABF launches low-sugar Jordans granola
Associated British Foods has launched a Jordans granola range that contains less than 5% sugar.
The company said the launch follows the announcement of Public Health England's guidelines on reducing the sugar content of certain food categories.
Andrew Dale, brand manager at Jordans, said: 'We have been working hard to create new low sugar granola recipes that contain no artificial ingredients. Using chicory root fibre, the root fibre from a vegetable, we've created two new great tasting granolas with less than 5% sugar."
Jordans Cereals' Low Sugar Cherry and Almond combines dried cherries and almonds, with wholegrain oat and barley clusters. The Almond & Hazelnut recipe mixes oats and grains with sliced and whole almonds, as well as hazelnuts.
The products are being rolled out across Waitrose, Sainsbury's, Morrisons, Asda and Ocado, with an RRP of GBP3.99 (US$6.15).
Siggi's debuts no added-sugar yogurts
US-based The Icelandic Milk and Skyr Corporation debuts its no added-sugar Siggi's yogurts, sweetened only with the natural fruit.
Made with whole milk, the 4% sugar yogurts are available in two flavours – banana and cinnamon, and peach and mango – and will arrive in US stores nationwide in January.
Priced at US$1.69, the skyr yogurts contain five grams of natural sugars per serving, ten grams of protein and have no artificial preservatives, sweeteners, flavours or colours.
Founder Siggi Hilmarsson said: "Consumers today more than ever want less sugar. We have always been at the forefront of reducing sugar in yogurt, and we are constantly pushing ourselves to use even less sugar, while still making delicious yogurt with no strange additives."
He added: "Our hope in launching this no added-sugar line of skyr is to provide everyone with a tasty new yogurt that takes one step further in sugar reduction."
Indian major Britannia unveils biscuit "bridge product"
In India, Britannia Industries has rolled out a "super-premium, indulgent biscuit" the company says is being sold in an "unprecedented product format".
Britannia said its new Pure Magic Deuce was the first so-called "bridge product" to go on sale in India's biscuit sector.
Pure Magic Deuce consists of a dark biscuit with a slab of chocolate on top; Britannia said "bridge products" are "a lucrative and fast-growing segment within foods" in India.
The products come in two variants – Milk Choco and White Choco – and are priced at INR30 for a 60g pack containing six biscuits. They are on sale in seven Indian cities including Delhi, Mumbai and Chennai.
Ali Harris Shere, vice president of marketing at Britannia, claimed: "This is truly the first disruptive innovation in the biscuit category in a very long time."
Premier Foods adds reduced sugar slices to Mr Kipling range
The UK's Premier Foods plc has launched a reduced-sugar version of its Mr Kipling brand cake slices.
The slices contain fruit and natural colours and flavours and have 30% less sugar than the existing range.
Available in three flavours – Smashing Strawberry, Rockin' Raspberry and Awesome Apple – the new cakes have brightly coloured and illustrated packaging to help differentiate them from the core range.
Helen Warren-Piper, marketing director at Premier Foods, said: "Families are increasingly looking for lower sugar alternatives to standard treats, and this range has been designed to fill a gap in the cake segment."
The new Mr Kipling fruit slices have an RRP of GBP1.75 (US$2.37) for a pack of six.
Sainsbury's new plant-based range
UK supermarket Sainsbury's will launch a new range of plant-based products in January, providing "innovative solutions for meat-free mealtimes" including a dish using jackfruit and vegetarian sausages.
The range encompasses seven new products:
Sweet & Smokey BBQ Pulled Jackfruit in a 400 gram pack at a RRP of GBP3 (US$4.07)
Cumberland Shroomdogs Vegetable Sausages – 400g – GBP2.50

Caramelised Onion Shroomdogs Vegetable Sausages – 400g – GBP2.50
Mushroom Mince – 250g – GBP1.50

Cauli Burgers – 225g – GBP2
Roasted Cauliflower Steaks – 210g – GBP2
Vegetable Burger – 225g – GBP2
Prewett's rolls out cheese Mini's
UK biscuit maker Prewett's, which is owned by Northumbrian Fine Foods, is adding to its gluten-free range with the launch of Mini's.
The cheese-flavoured biscuits will initially be available in UK supermarket Sainsbury's with more stockists to follow.
"These tasty biscuits are crammed full of cheese flavour and are the perfect choice for gluten-free consumers looking for a delicious snack treat," said David Wood, the business improvement director for Northumbrian Fine Foods.
Mini's come in a multi-five-pack 125 gram bag.
UK's Finnebrogue produces nitrite-free Naked Bacon
UK-based food manufacturer Finnebrogue is claiming a first with its new nitrite-free Naked Bacon product.
In supermarkets from 10 January, the product is, the company says, the first of its kind to be made without chemicals linked to an elevated risk of cancer.
Nitrites have been linked with the production of carcinogenic nitrosamines when ingested.

Finnebrogue said it uses natural fruit and spice extracts to create a bacon made without the need for added nitrites.
The company is also producing nitrite-free bacon for Marks and Spencer, which will be packaging the product in its own brand, to go on sale this month.
As well as Naked Bacon, Finnebrogue will be bringing Naked Ham to market from 15 January.
Sacla launches vegan mayonnaise
Italian pasta sauce maker Sacla is launching a vegan mayonnaise in the UK.
The mayonnaise is available in 180g jars and made in Italy. It is said to be 100% vegan and is free from dairy, gluten, eggs and allergens.
Clare Blampied, managing director of Sacla's UK arm, said: "Food must be joyful and there's no compromise to taste or texture with our new free from mayonnaise. We hope it'll become a store cupboard staple in non-vegan households too."
The product is available this month in Sainsbury's and Co-op and via Ocado and the independent trade with an RRP of GBP2.29 (US$3.10).
India's Prataap Snacks moves into sweet snacks
India-based savoury snacks maker Prataap Snacks is giving a sweeter note to its product range.
Prataap Snacks, which floated last year, is using a new brand – Rich Feast – for the move and has launched Yum Pie, "a three layered treat" with sponge cake, flavoured jam and chocolate.
Sold for INR5 (US$0.08), Prataap Snacks said the products have been designed and targeted towards children aged four to 14. Yum Pie is available in orange, strawberry and mixed fruit flavours.
MD and CEO Amit Kumat said: "With this, we will now get into a bigger macro-snack category from only being a salty snacks player. We intend to grow the Rich Feast brand further with new launches in the coming time."
Post launches cookie-based cereals in Mondelez deal
US-based Post Holdings has launched two cereals in a tie-up with Mondelez International.
It is producing Post Nutter Butter and Chips Ahoy cereals under a licencing deal with the snacks giant.
The two companies have already worked on Post Oreo O's cereal.
Post Nutter Butter cereal features "bite-sized, peanut-shaped pieces topped with a rich and creamy coating that contains real peanut butter" while Post Chips Ahoy cereal is said to deliver the "unmistakable, chocolatey flavours of America's favourite chocolate chip cookie".
The cereals are available in stores throughout the US.