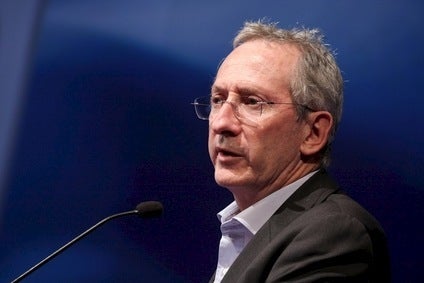 Danone CEO Franck Riboud surprised this market this week with his decision to step down from the role after 18 years. Elsewhere, a report into the UK food supply chain was published, while KP Snacks announced it is mulling the closure of two of its UK plants. Here is the week in quotes.
"I want to ensure that Danone has everything it needs to lay the groundwork for its future – which is why I recommended separating the functions of chairman and chief executive officer and paving the way for the arrival of a new generation to guide Danone" – Franck Riboud explains why he recommended Danone's board split the roles of chairman and CEO, meaning deputy chief executive Emmanuel Faber will take the top job.
"The food industry must above all else demonstrate that having a safe, high integrity food system for the UK is their main responsibility and priority" – Professor Chris Elliott publishes his review into the UK food supply chain, a report commissioned by the country's government after the horsemeat scandal.
"When a shopper picks something up from a supermarket shelf it should be exactly what it says on the label, and we'll crack down on food fraudsters trying to con British consumers" – Environment Secretary for the UK Liz Truss announces the construction of a food crime unit to improve consumer confidence in the UK supply chain.
"Unfortunately, despite plans to grow our Pom-Bear business, our Corby factory is capacity constrained and has been for some time" – Nick Bunker, CEO of KP Snacks, outlines why the UK firm is proposing the closure of its Corby and Consett plants, moves that will see 186 jobs put at risk.
"Consumers can be reassured that every squeeze of Heinz Tomato Ketchup 50% Less Sugars contains the unmistakable taste of Heinz and a third of a tomato," – Heinz UK senior brand manager Katherine Broadley assures consumers the company's new ketchup – which contains stevia – still tastes just as good as regular sauce.
"We would like to see better infrastructural facilities including roads, power and cold storage facilities. We also want the government to ensure strict implementation of a national level breeding policy for the overall enhancement of yield at a sustainable level" – Amul MD Dr Rathnam outlines the Indian dairy group's wish-list for the recently-elected new Indian government.
"It seems they are deliberately looking for some design and innovation thinking that is outside the dairy industry – which I thought was a pretty smart idea" – Joanne Bills, director of Australia-based food industry consultancy Freshagenda, believes Fonterra's move to partner with Australia's Commonwealth Scientific and Industrial Research Organisation to to research dairy solutions is a good one.
"The positive development of our business in the past years lead to the decision to expand the production capacity" – Werthers Original parent Storck is planning to expand its Ohrdruf plant in central Germany.
"We are very excited about the opportunity for our brands in the Chinese breakfast cereal and snacking market and will continue to invest in our products, adapting where relevant, to allow us to build a successful long term future" – Weetabix CEO Giles Turrell comments on the brand's launch of China-specific Alpen cereal bars.
"There is a higher demand for a more quality pizza rather than a lower price-point and promotional offers" – Euromonitor food analyst Lianne van den Bos says the North American consumer is picking quality over price when it comes to frozen pizza – one of the reasons the Oetker brand is growing in the region.