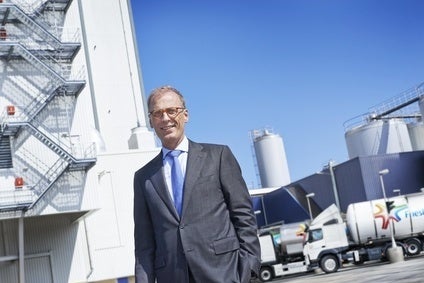 This week, the EU announced more measures to help out dairy farmers hit by the Russia ban. Chiquita and Fyffes insisted again a merger between the two would be the best outcome for shareholders. Our latest just-food interview saw us discuss Agropur's M&A strategy with the Canadian dairy co-op's CEO, while we chatted to Scandinavian free-from firm Fria about its expansion across Europe. Here is the week in quotes.
"The European dairy sector needs time and help to adapt so I am announcing today targeted market support, focusing on milk powder, butter and exported cheeses If needed, further measures will follow," – EU agriculture and rural development commissioner Dacian Ciolos announces intervention to help the bloc's dairy farmers affected by the Russian ban on dairy products.
"As a result of our diligent and thorough integration planning efforts, Chiquita and Fyffes have identified an additional $20m of synergies that will allow ChiquitaFyffes to deliver even more value for our shareholders and result in a combined company with stronger earnings power" – Chiquita Brands International CEO Ed Lonergan and Fyffes executive chairman David McCann insist a merger of the two firms is the way to go as opposed to a Chiquita takeover by Cutrale-Safra.
"My sense is that for Fonterra, this is mostly about distribution which would take a lot of time and money to build on their own. Beingmate, as the leading domestic infant powder brand, is a good partner," – A.T Kearney analyst Torsten Stocker believes Fonterra has made a good move in partnering Chinese Beingmate for distribution of baby formula in China.
"It gives us a critical mass in a market that is consolidating very quickly" – Agropur CEO Robert Coallier explains why the acquisitive Canadian dairy co-op has bought US cheese and dairy ingredients firm Davisco Foods International, its largest acquisition to date.
"Private label is a sign the big chains are interested and see a business opportunity in gluten free. I don't see this as a big threat to our business" – Free-from firm Fria CEO Jeanine Holmgren welcomes a bit of healthy competition in the sector.
"Ghirardelli is removing the "all natural" labeling, has modified the product name of the white chips, and has removed references to "baking chocolate" and "chocolate indulgence" from the white chips package," – Adam Gutride, the lawyer representing Lindt & Sprungli's US unit Ghirardelli which paid out US$5.25m in a class action lawsuit which alleged the brand's labelling was misleading. It has subsequently been changed.
"Our acquisition in Australia opens up a new channel for UK manufactured products and we have already successfully launched two of our brands into the growing Australian market with more expected to follow during the course of the new financial year," – Symington's has said it plans to expand presence in Australia through the introduction of more of its brands into the market.
"Though ConAgra is a relatively minor user of palm oil, to help ensure our purchases do not contribute to deforestation of the world's rainforests or negatively impact the comunities that depend on them, we will source 100% of out palm oil from responsible and sustainable sources by December 2015″ – ConAgra Foods has responded to investor pressure and outlined a new policy on palm oil.
"The combination of a strong euro, a high milk price, falling sales in a number of Asian markets and general political unrest all affected Frieslandcampina's results during the first six months of 2014″ – CEO Cees 't Hart reflects on FrieslandCampina's first half where the Dutch dairy giant saw profits fall.