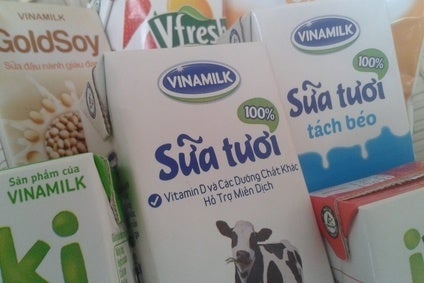 This week we returned from Vietnam after exploring the country's dairy sector. Russia hit the headlines once again as its EU pork ban weighed heavy on Danish Crown's list of woes, and its ongoing battle with Ukrainian confectioner over seized assets continued. Win-wise, Wilmar celebrated after a revised takeover bid for Goodman Fielder was accepted and elsewhere Bon-Bon Buddies secured a UK distribution deal with Italian confectioner Zaini. Here is the week in quotes.
"Still we are trying not to stop production, but we do not know how far it will go and what difficulties and problems we could have" – Ukrainian confectioner Roshen finds itself in a spot of bother as the Moscow City Court refuses to overturn the account seizure decision it made in March.
"We believe this revised proposal also demonstrates the strength of our underlying business and brands but also the opportunity to leverage these assets to grow the business across the Asian region" – Goodman Fielder accepts a revised takeover bid of US$1.37bn from Wilmar.
"Expansion has been our mantra and will remain so in the coming years" – Amul MD Shri Sodhi reveals the dairy co-operative is planning to open five additional facilities which when complete will increase processing capacity by a further 60 million litres a day.
"The pipeline has the capacity to deliver more than 20m litres of fresh milk to consumers in China within the first 12 months" – Greg McNamara, Norco's chairman rejoices after a successful trial fresh milk export programme to China.
"We're talking about the biggest food and beverage manufacturer in the world, and they're saying they can't afford a secure retirement for their dedicated employees?" – Unifor president Paul Shiels on the strike at Nestle's Canada chocolate factory following a disagreement surrounding a staff pension policy.
"They have only recently begun liaison with the major stores so haven't yet confirmed any listings, but are confident that the quality of the product will appeal" – A spokesperson for Bon Bon Buddies comments on supermarket ambition following a distribution deal with Italian confectioner Zaini.
"The world market has, for the past six months, been characterised by the Russian import ban on pork from the EU as well as the PEDV virus which has hit the US pig production hard" – Danish Crown CEO Kjeld Johannesen comments on a tough first half.
"It's not easy to get US$3bn in the year 2017. We believe we can do that" –Nguyen Quoc Khánh, Vinamilk's executive director for R&D and production, says despite the challenges presented, the firm will hit its 2017 goal.
"When you consider what constitutes a good breakfast, cereal and fat free milk pack a powerful nutritional punch; ower in fat and calories than many other breakfast choices, and including many nutrients that people might otherwise miss" – Kellogg defends itself against claims some of its cereals marketed to kids are packed with unnecessary sugars.
"Consumers are making the correlation between what we eat and our health, and that knowledge is spurring heightened consumer interest in organic products" – Laura Batcha, CEO of the Organic Trade Association says US organic food sales are accelerating as awareness of the sector grows.