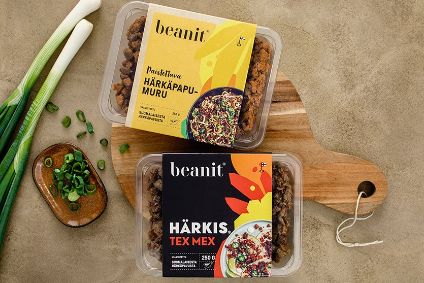 Finnish food group Raisio has acquired plant-based manufacturer Verso Food from its Norway-headquartered owner Kavli, which bought the fava bean product maker in 2019.
Raisio, which owns the Benecol brand, said the agreement has been signed today (1 April) with Kavli for the debt-free purchase price of EUR7m (US$8.2m), to be paid in cash, along with one million of what the Finnish company referred to as its V shares.
Verso, based in Espoo in the south of Finland near Helsinki, was founded in 2010, and is regarded as one of the major plant-based producers in the country, with fava bean meat-replacement products under its Beanit and Härkis brands. Its range is both gluten and soy-free, non-GMO and vegan.
The company has a manufacturing facility in Kauhava, west Finland. The business generated sales last year of EUR8m, but is "still unprofitable", Helsinki-listed Raisio said in a statement this morning.
Raisio set out its stall on plant-based foods in 2019 with a EUR45m investment, including the construction of a dedicated facility in the south-west Finnish town carrying the same name.
President and CEO Pekka Kuusniemi said: "One of our key strategic targets is growth built on plant-based value-added products. With Verso Food, we will achieve leadership in the rapidly growing plant-based protein market in Finland.
"Through the acquisition, we will also gain production technology that complements our strategic capabilities as well as product development and marketing expertise."
Verso Food posted a loss last year of EUR4.5m, widening from EUR3.6m in the previous 12 months. Its 30 or so employees will transfer over to Raisio.
"By joining forces with Raisio, we are significantly stronger and better positioned to accelerate our international expansion," said Verso Food's CEO Tomi Järvenpää. "In recent years, we have invested heavily into expanding the success story of plant protein-based foods" overseas.
Kavli's CEO Kenneth Hamnes added that as part of the company's revised strategy, it will focus on plant-based products, but "within our core categories". The company also produces dairy-alternative products, along with mayonnaise and mustard.