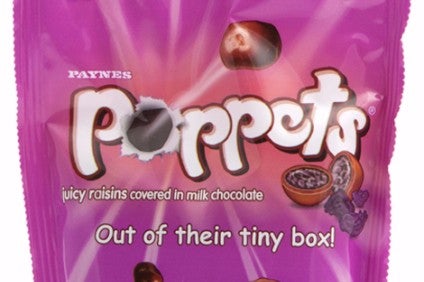 Finland's Raisio is set to sell its confectionery business to Ireland-based Valeo Foods for EUR77m (US$91.2m).
Raisio will divest its confectionery operations in the UK and the Czech Republic to the Republic of Ireland-based Valeo by 29 December, at the latest, with six production plants involved. The Finnish company's confectionery brands include Poppets , Fox 's Glacier Mints, Just and Pedro. The 1,000 employees affected will transfer to Valeo.
A statement from Raisio announcing the deal said today (22 December) the basis of the transaction will be through a share arrangement with an "enterprise" value of EUR100m. Raisio will post a divestment loss of about EUR38m with the deal, but estimates the firm's balance sheet will total EUR370m once the sale of the confectionery business has been completed.
For the first nine months of this year, Raisio's confectionery sales amounted to EUR71.3m, although that was down on the EUR75.4m booked for the same period a year earlier and the EUR76.9m made in the first nine months of 2015.
In the first nine months of this year, the EBIT Raisio made from confectionery was EUR6.4m. Raisio does not regularly break out the EBIT from its confectionery business in its quarterly filings.
However, in November, when Raisio reported its results for the third quarter of 2017 and for the first nine months of the year, it said the profitability of its UK confectionery business had continued to weaken in the three months to the end of September. It said its Czech confectionery business had put in a "good performance".
Raisio's group president and chief executive Pekka Kuusniemi said the sale will give the company room to make future acquisitions.
"The divestment of the confectionery business is an important strategic step for Raisio on its path towards a responsibly operating forerunner focusing on healthy foods," Kuusniemi added. "Together with our already strong balance sheet, the proceeds from the deal allow extensive acquisitions that strategically fit our core business."
In October, Raisio said it would spend more than GBP1m (US$1.3m) to expand its Nimbus' factory in north Wales, where the business makes decorations and inclusions for bakery, chilled and frozen food manufacturers.
On the other side of the deal, Valeo has annual sales of EUR700m and owns a range of brands within snacking and sweet treats, health and wellness, baking and meal ingredients, beverages and foodservice, including Balconi in Italy, Rowse in the UK, and Jacob's, Batchelors and Odlums in Ireland.
Valeo's CEO Seamus Kearney said: "This transaction is consistent with Valeo Foods' strategic focus and we are very excited about the opportunities to expand and grow these businesses through a combination of significant new capital and brand investment."
In its own statement issued today, Valeo said Raisio's confectionery businesses have a growing private-label segment, contract manufacturing and food ingredients operations, with a customer base spread across Europe, Asia, Australasia and North America.
Kearney added: "We are committed to expanding Valeo Foods through further organic growth and strategic acquisitions as we continue to build our footprint and presence in Europe and across the rest of the world."