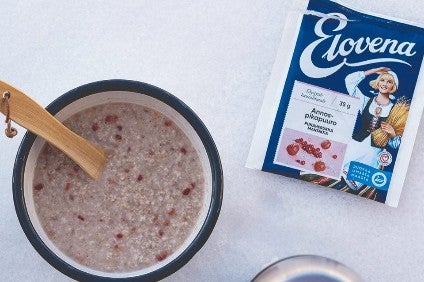 Finland's Raisio, the manufacturer behind brands including Benecol and Elovena, has outlined the level of sales it expects to hit in 2021.
The company, which has made two significant disposals in the last 12 months to focus on "healthy" foods, said today (4 December) it is aiming to reach net sales of EUR260m in 2021 and "comparable EBIT" of EUR32m the same year. Raisio said the targets were "defined for the company's continuing operations in 2018".
The goals are part of a new strategy Raisio has drawn up for between 2019 and 2021. During that period, Raisio is targeting net sales growth of "higher than 4%" on average each year on an organic basis. It also wants to see comparable EBIT of "higher than 10% of net sales".
Raisio said in November it is expecting the net sales from its continuing operations to reach EUR230m in 2018. It also estimated the comparable EBIT for its continuing operations would be 12% of net sales this year
Raisio said the new strategy would be based on "two strong pillars". It added: "On the one hand, Raisio will continue to invest in the growth of the leading, international cholesterol-lowering Benecol brand, and on the other, the company will build a European business based on Raisio's strong oat expertise.
"Raisio also seeks growth by expanding into new markets in Europe and by strengthening the growth and profitability of its core businesses."
In December 2017, Raisio sold its confectionery business to Ireland-based Valeo Foods. In May 2018, the company followed that disposal with the sale of its cattle feed assets to Sweden's Lantmannen.