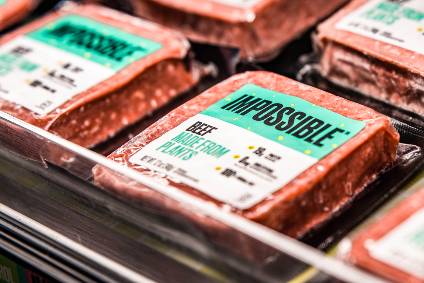 Retail sales of plant-based foods in the US grew by 27% in 2020, new research shows.
Growth outpaced meat products, although coming from a much higher starting base, with plant-based sales reaching US$7bn in the year to 29 December.
Research commissioned by the Plant Based Foods Association (PBFA) and The Good Food Institute (GFI) showed US sales of plant-based meat, dairy, and eggs outpaced sales of conventional animal products for the third consecutive year across all US states.
GFI research analyst Kyle Gaan said: "2020 was a breakout year for plant-based foods across the store."
Plant-based product sales grew almost twice as fast as the total US retail food market, which increased 15% in 2020. The research found that some 57% of US households now purchase plant-based foods, up from 53% in 2019.
The value of plant-based meat hit $1.4bn in 2020, with sales growing 45% from $962m in 2019. The alternative-meat category increased twice as fast as conventional proteins and now accounts for 2.7% of retail packaged meat sales.
Chilled plant-based meat sales grew 75% in 2020, while their frozen counterparts were up 30%.
The research, carried out by data company Spins, revealed plant-based milk sales reached $2.5bn – up 20% year-on-year – and accounted for 35% of the total plant-based food market.
Plant-based milk grew twice as fast as cows' milk and is now purchased by 39% of US households. Almond milk remains the category leader and accounts for about two-thirds of plant-based milk sales in dollar terms.
From a relatively low base, plant-based eggs grew 168%, almost ten times the rate of conventional eggs.
Julie Emmett, PBFA senior director of retail partnerships, said: "The data tells us unequivocally that we are experiencing a fundamental shift as an ever-growing number of consumers are choosing foods that taste good and boost their health by incorporating plant-based foods into their diet."
just-food has asked the organisations that commissioned the research for details of the volumes of products sold.