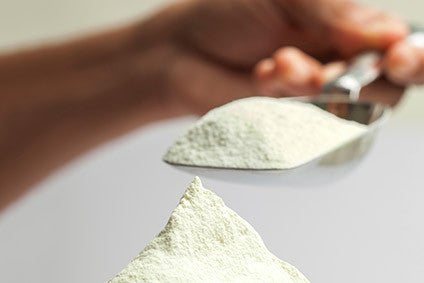 The recall of infant formula manufactured at one of Lactalis' plants in France after it emerged babies had been infected with salmonella has failed, with a number of retailers revealing some of the under-scrutiny SKUs still found their way onto shelves.
French grocers including Leclerc, Carrefour and Systeme-U said some of the affected formula was sold by its stores, a fresh twist in a scandal that has cast a shadow over one of the world's largest dairy manufacturers, which has been criticised by the country's government.
On 2 December, French officials announced 20 babies under six months had been infected with salmonella after consuming products made at the Lactalis plant in Craon and withdrew batches of infant milk marketed under three brands.
The following week, on 10 December, French consumer protection officials reported five more cases of infection and ordered a recall of products shipped to markets including China, Greece and Colombia.
On 21 December, Lactalis widened the recall to include its nutritional product Taranis and said it was recalling all infant formula and nutritional products made at the factory since 15 February as a precaution.
Leclerc, the largest food retailer, said this week it had sold 984 products involved in the recall.
In a statement yesterday (11 January), Carrefour said it had sold 434 products at risk of contamination since the recall issued on 21 December but added 95,000 SKUs had been removed from shelves.
Last week, the French weekly publication Le Canard Enchaîné claimed Lactalis knew of salmonella at the facility in Craon after internal investigations carried out in August and in November but, not being obliged to publish the information, kept it confidential.
In between the two internal investigations, in September, the French Ministry of Agriculture visited the site and found no trace of salmonella.
However, another investigation by ministry officials in December detected some contamination.
Speaking to the media yesterday, a Lactalis spokesperson reportedly said: "Our group has since the beginning behaved like a responsible company and of course it will continue to do so."
Bruno Le Maire, France's Economy Minister, said recalled formula had remained on sale at over 90 locations in France, although he added there was no indication at present any of the potentially contaminated tins had reached export markets.
Le Maire reportedly said French officials at the local consumer protection agency, the DGCCRF, had had to issue the 10 December recall as Lactalis had not acted quickly enough. "The state took over from a company which failed in its actions," he was quoted as saying.
The minister hit out at Lactalis and retailers. "There has been unacceptable behaviour, which should be punished."
Speaking at a summit between France and Italy in Rome, Emmanuel Macron, France's President, reportedly said: "If penalties are needed, they will be imposed."
French consumer advocacy group UFC-Que Choisir claimed a "vigilant consumer" had revealed formula meant to have been recalled was still on sale. The shopper found a tin of the formula at a Leclerc outlet on 9 January.
" Two days after this new crisis, the DGCCRF, which is responsible for overseeing the withdrawal, announced the results of its [latest] inspections: 91 establishments pinned, i.e. 30 supermarkets, 44 pharmacies, three wholesalers, 12 hospitals and two crèches," UFC-Que Choisir said in a statement.