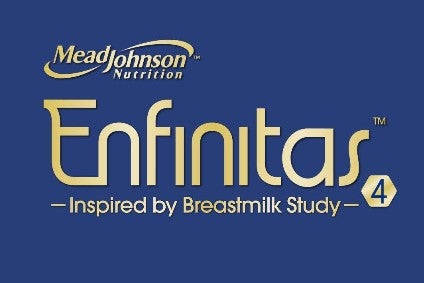 Reckitt Benckiser has insisted its infant-formula business has "positive momentum" after the division saw its sales fall in the first half of the year.
The UK-based consumer goods group, also home to brands such as Finish dishwasher tablets and Dettol antiseptic, saw revenue from its infant and child nutrition arm drop 5.1% to GBP1.44bn (US$1.87bn) in the six months to the end of June. On a like-for-like basis, revenue was down 4.8%. Reckitt's total revenue rose 8.8% to GBP4.17bn.
In February, Reckitt booked a writedown of more than GBP5bn thanks to weaker prospects for growth for the infant and child nutrition arm in China.
The company said the first-half fall in sales from its infant and child nutrition division "largely reflected known headwinds".
Reckitt said "as expected" the net revenue the unit achieved from developing markets declined, with the company pointing to cross-border closures and unrest in Hong Kong and an "overhaul" of a dryer in Mexico. Combined, both those factors hit revenue by GBP40m.
In mainland China, Reckitt said its infant formula nd child nutrition business "benefited from positive consumer trends, largely offsetting the year-on-year impact of restocking in 2019"
Revenue in North America was up, thanks to "steady underlying demand across the period" despite pantry loading and unloading by consumers as they reacted to Covid-19.
"Despite the headline numbers, the first half of 2020 for our infant formula business was reassuring as we made progress against our growth objectives and managed effectively our planned projects, for example, the dryer overhaul in North America, which we discussed in April," Reckitt CEO Laxman Narasimhan told analysts.
The most significant unknown is always going to be the extent of unrest and Covid-19 impacts in Hong Kong as borders were closed and local demand fell sharply as a result. Hong Kong remains a concern as we look forward. And while we start lapping the unrest seeing the back half of 2019, the situation remains uncertain."
However, Narasimhan said Reckitt's "underlying progress" in mainland China had been "good", adding: "The recent investments in competitiveness and the new product introductions, both local and imported, add to our super premium positions. Furthermore, we are seeing stronger marketplace execution in both online and off-line channels and market share increases as a result."
Nonetheless, the Reckitt boss conceded the company has "a lot of work to do" in some emerging markets "to consistently deliver positive growth".
He added: "Looking ahead, the impact of slowing birth rates and possible weaker GDP growth in the near term also make it very important that we judge our investments and innovations well to maintain leadership positions. Even in a market like the US, while underlying growth rates have traditionally been positive, Covid-19 has had and will have a negative effect. The pressure for local welfare support, particularly in communities with higher level of unemployment, will also make future weak participation higher.
Notwithstanding these external challenges, the growth opportunities for the broader nutrition business unit remains strong and execution is strengthening. We continue to see strong performance in the US as our NeuroPro brand continues to grow market share. Our e-commerce performance across the board is strengthening, particularly in ASEAN. We continue to be positive about the growth, price premiumisation and market share performance of the Enfinitas brand in China."
Reckitt acquired Enfinitas and Enfamil maker Mead Johnson in 2017 for US$17.9bn, including debt.
At the time, then Reckitt CEO Rakesh Kapoor described the acquisition as a "significant step forward" in the FMCG group's "journey as a leader in consumer health".
However, before the acquisition Mead Johnson had seen declining sales. Reckitt has managed to grow sales for the first two full years after the acquisition but volumes have recently been slowing amid competition in China. In October, Reckitt downgraded its full-year revenue forecast amid "challenging market conditions" in the infant-formula sector.