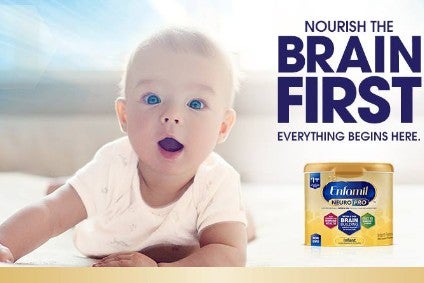 Reckitt Benckiser, the UK-based consumer goods group behind brands including Enfamil and Enfagrow, has seen its infant-nutrition sales slow in the second quarter.
The London-listed business, which entered the infant-nutrition market through the acquisition of Mead Johnson two years ago, booked a 2% rise in infant-nutrition sales in the quarter ended 30 June to GBP758m (US$922.9m). At constant exchange rates, sales were flat.
Sanford Bernstein analyst Andrew Wood called the flat result "a big negative surprise, as China weakness offset US strength", adding: "RB's cautious tone on China infant formula contrasts to a more bullish tone from Danone last week."
The results marked a slowdown on the first quarter, contributing to a 5% rise in first-half sales to GBP1.52bn. At constant exchange rates, sales were up 2%.
"IFCN [infant nutrition] total category growth has slowed during the quarter, mainly due to a decline in birth rates in China," Reckitt Benckiser said in a stock-exchange filing today (30 July), pointing out birth rates in the country had declined over the previous two years. "China saw a relatively flat performance in the quarter, with low single-digit market growth and some share decline. We are seeing improving market share trends as we restore supply to normal service levels."
By contrast, Reckitt said its infant-nutrition business in North America "continues to deliver strong, above-market growth". It added: "The introduction of milk fat globular membrane (MFGM) for improved cognitive benefits, into our IFCN products, combined with our focus on growth channels, is enabling us to grow both volume share and mix benefits through premiumisation."
Elsewhere, Reckitt saw "good growth" in Indonesia and Argentina but said that was "offset by weakness in other ASEAN and Latin American markets".
The company added: "We see significant value-creation opportunities within this category and remain on track to deliver the synergies and other objectives which we communicated at the time of our acquisition of Mead Johnson."
Last autumn, Reckitt said it would combine its infant-nutrition business with other brands to form its Health Business Unit. In today's filing, the company outlined some initiatives it plans to pursue to grow its infant-nutrition operations. It claimed it had a "stronger innovation pipeline" including looking at "improved cognitive benefits".
In China, Reckitt has upped investments in distribution as the company rebuilds after a manufacturing problem at a plant in Europe last year hit supplies. The company also launching a "grass-fed" product in China as part of plans to expand into lower-tier cities.
Elsewhere, Reckitt is relaunching the Enfa brand in Hong Kong and stepping up marketing in markets in Latin America and in the ASEAN region.