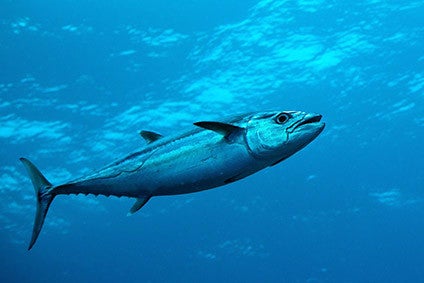 UK food retailer Sainsbury and Germany's Edeka have joined a global group of NGOs and environmental organisations calling for the restriction of a controversial fishing practice said to threaten yellowfin tuna stocks in the Indian Ocean.
The initiative is being led by Kenya and Sri Lanka pressing for greater monitoring and management of the use of fish aggregating devices (FADs), a method where nets are hung from floats to lure tuna. They can either be free-floating or tethered to the seabed but have attracted criticism because they often capture juvenile tuna, putting the sustainability of particular tuna stocks at risk. And they also tend to catch fish outside of the target species known as bycatch.
The Marine Stewardship Council (MSC), a London-based non-profit organisation promoting sustainability, which is not part of the group, explains on its website: "A wide variety of marine life including tuna, turtles and sharks congregate around FADs. These species can become entangled in the floating nets attached to FADs.
"Bycatch of non-target species can be high when fishing around FADs, particularly in comparison to other methods of tuna fishing such as free school fishing, where nets are set in the open water. High amounts of bycatch can have detrimental impacts on the sustainability of these species."
The World Wide Fund for Nature (WWF) has also joined the retailers and a host of other organisations in support of the Kenya and Sri Lanka-led initiative.
Clarus Chu, the seafood manager at WWF UK, said: "The ocean is the beating blue heart of our planet, but fishing is driving magnificent species like tuna to the brink of collapse. Stopping catastrophic nature loss and restoring the seas to good health requires coordinated international action to monitor and control the use of technologies like fish aggregating devices, which are making fisheries fundamentally unsustainable."
The group pressing for restrictions and better management has penned a letter to the Indian Ocean Tuna Committee (IOTC), based in the Seychelles, to consider the proposals at a meeting this week.
It read: "Signatories of this letter recognise the urgent need to improve drifting-FAD management in the Indian Ocean and consider this proposal to be both timely and suitable for this purpose. Successful implementation of this proposal will help facilitate rebuilding of the Indian Ocean yellowfin tuna stock, primarily by reducing catches of juvenile tropical tunas, but also by more broadly enabling sustainable management of industrial purse seine fleets operations within the Indian Ocean.
"Implementation would also help mitigate other ecological impacts associated with drifting-FADs, including those on turtles, sharks and marine mammals, which are affected as direct bycatches, and through entanglement mortality with continued ghost fishing when drifting-FADs are lost, discarded or abandoned."
"The damage to coral reefs and other sensitive inshore habitats when drifting-FADs become stranded, as well as the contribution of drifting-FADs to marine debris and marine plastic pollution, could also be mitigated through implementation of this proposal."
A spokesperson for Sainsbury told just-food the retailer's tuna is FAD-free, confirming its support for the initiative.
The UK's top food retailer Tesco, which is not a signatory to the letter, and Edeka both already advocate pole and line caught tuna but avoid FAD caught fish.
A Tesco spokesperson said: "As the UK's biggest fishmonger, we have a crucial role in promoting healthy oceans and fish stocks and preserving resources for future generations. We are extremely concerned about overfishing in the Indian Ocean and last year we stopped sourcing tuna and billfish from this region.

"All of our tuna is sourced through pole and line or FAD-free fishing methods and we are going further by developing a seascape approach to marine sustainability alongside WWF. This will ensure that whole marine ecosystems are maintained in a healthy, productive way and that we reach our goal of 100% MSC certification across our tuna ranges by 2025."
Meanwhile, UK retailer Marks and Spencer, which is a member of the London-based International Pole and Line Foundation (IPNLF) but is not part of the pressure group, has penned its own letter to the IOTC in support of the proposals.
In that letter, M&S said it sells two species of tuna sourced from the Indian Ocean through "small-scale fishing communities in the Maldives and Sri Lanka" - skipjack and yellowfin tuna.
"We urgently advocate IOTC member states to agree to an effective and equitable recovery plan for the overfished yellowfin tuna stock. Such a rebuilding plan should support sustainable development for small island developing countries in the region and also take account of the significant juvenile yellowfin mortality associated with drifting-FADs that impairs recruitment and poses a serious threat to yellowfin stock recovery."
This publication has approached Edeka for comment but had not received a reply at the time of publication.