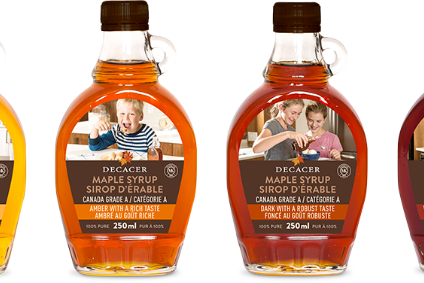 Canada's Rogers Sugar has paid CAD40m (US$31.3m) to acquire Decacer, a Québec-based distributor of branded and private label maple syrup products.
The transaction was conducted through L.B. Maple Treat Corporation (LBMT), using the Rogers Sugar CAD275m revolving credit facility, according to a statement on Monday (20 November). Rogers Sugar purchased LBMT in August this year for CAD160.3m from investment firm Champlain Financial Corporation.
Headquartered in Granby, Québec, LBMT produces maple syrup and derived maple syrup products under brands such as its namesake, Great Northern, Sucro-Bec and Highland Sugarworks.
Decacer provides "premium quality" pure maple products under its own name and also private labels for the retail and food processing markets. The company has a bottling facility in Degelis, which is in the Bas-Saint-Laurent region, one of Québec's largest maple syrup producing regions.
John Holliday, president and chief executive of Rogers Sugar, said of the transaction: "This acquisition, combined with the acquisition of LBMT in August 2017, will allow us to create a solid platform as well as various sales and operational synergies and provide opportunities for organic growth going forward.
"At the same time, the acquisition of Decacer will re-prioritise some of those synergies."
The CEO went on to say that he estimates 20% of Rogers Sugar's total sales, on a pro-forma basis, will be derived from maple syrup, of which more than 70% will be exported worldwide.
In what is a complex set up, Rogers Sugar owns all of the common shares of refiner Lantic, which in turn holds all the common shares of LBMT.
Lantic operates cane sugar refineries in Montréal, Québec and Vancouver in British Columbia, as well as the only Canadian sugar beet processing facility in Taber in the province of Alberta. Lantic's sugar products are marketed under its own trademark in eastern Canada, and the Rogers trademark in western Canada.
Decacer's vice president Eliott Levasseu said: "Decacer represents a solid complementary fit to Lantic and LBMT. Once combined, we see opportunities to leverage sales and marketing efforts and fully take advantage of favourable growth trends in the maple syrup industry."