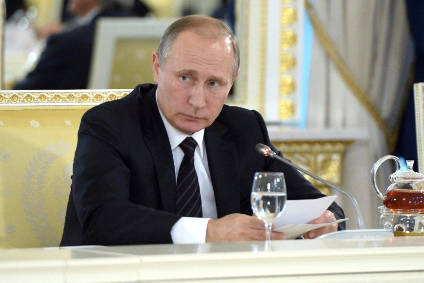 Russia has added salt to its list of banned food imports from Ukraine and Western countries, state news agency Tass has announced.
A government decree bans the import of salt from countries that have imposed sanctions against Russia with effect from 1 November, Tass said yesterday (13 September).
Salt will join a range of Western food items, including meat, dairy products, fruit and vegetables, banned in a tit-for-tat response to sanctions imposed on Russia over its actions in 2014 in Ukraine. In July, the ban on imports of Western food was extended by President Vladimir Putin until the end of 2017.
A spokesperson for Russia's association of food manufacturers and suppliers, Rusprodsoyuz, told Tass that the move would not affect Russians because demand for edible and industrial salt could be "fully met" domestically. The spokesperson estimated the volume of the salt market in Russia to be around five million tonnes annually.
In addition, the spokesperson said salt producers in Belarus and Kazakhstan would continue to be "widely represented on the Russian market".
According to Rusprodsoyuz, the "intense competition of these countries" following Ukraine's departure from the edible salt market in 2015 "has already led to a reduction in wholesale prices of Russian producers by 12%". "Moreover, the increase in domestic production and the increase in the use of production capacities should lead to reduction of production costs."
Rusprodsoyuz told Tass that it expects foreign firms to "do their best to bring excessive volumes of salt stored in their warehouses to the Russian market before the ban on imports comes into effect".
The volume of imported white and industrial salt imported from the now "sanctioned" countries amounted to around 13% of total shipments between January and August of this year, Rusprodsoyuz told Tass.