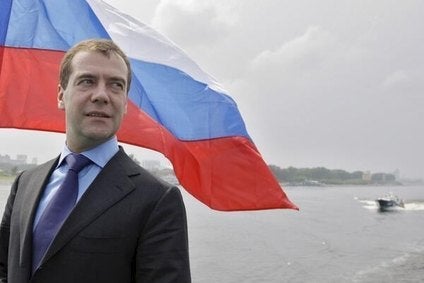 Dmitry Medvedev, Russia's Prime Minister, has reportedly called on the country's government to study whether its import restrictions should be widened to non-EU member states that have backed Brussels' extension of sanctions against Moscow.
According to Russian news agency TASS, Medvedev said the Russian government had been told the measures had been supported by some European countries not in the EU.
"If it is really the case it is necessary to prepare an appeal to the President to supplement the decree with an additional number of countries supporting such decisions," Medvedev was quoted as saying.
"I would ask the Ministry of Agriculture and the government's administration to clarify this issue and, if necessary, to prepare an appeal of the government to change those acts, which we approved earlier, and proposals how to supplement the decree of the president."
Last week, the EU announced Montenegro and Albania, Iceland, Liechtenstein Norway, Georgia and Ukraine and "align themselves" with Brussels' move to continue the sanctions against Moscow until next June.