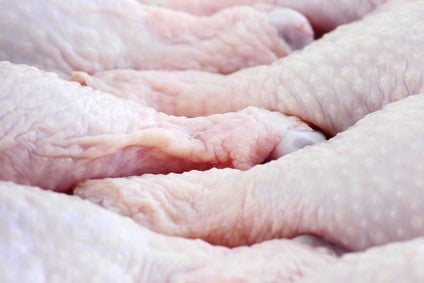 The Russian veterinary service, the Rosselkhoznadzor, today (6 August) suggested that microorganisms have been detected on poultry shipments from Tyson Foods and Sanderson Farms.
In a statement on its website, the Rosselkhoznadzor said: "Quantity of Mesophilic Aerobic and Facultative Anaerobic Microorganisms were detected in two consignments of poultry meat imported from the US (Plant No. P-522, Sanderson Farms, Inc and No.P-243, Tyson Foods, Inc) following laboratory tests carried out within monitoring programme."
The news follows an order from President Vladimir Putin requiring the Russian authorities to place import restrictions on agricultural products produced in countries that have imposed sanctions on Russia over its involvement in fighting in the Ukraine.
The decree came in response to a fresh round of sanctions from the US and EU after the downing of Malaysia Airlines flight 17 over territory held by pro-Russian forces in eastern Ukraine. US and EU officials have claimed Russia provided the missile that shot down the aircraft, accusations that Russia has denied.
Russia has already blocked EU pork exports, citing concerns over swine fever. Other import restrictions have included dairy products from the Ukraine.
Responding to the accusation that Sanderson is supplying tainted poultry products, Sanderson treasurer and CFO Mike Cockrell told just-food that he believes the Rosselkhoznadzor's findings are politically motivated.
"I don't believe there are any food safety issues with our products. We think this is political in nature," Cockrell said.
While Sanderson would "like to continue to feed hungry people in Russia" he added that the market is becoming less significant for the US poultry sector.
"The fact of the matter is the market is not as important as it used to be… In terms of our company, shipments to Russia represent just 1.5% of total sales. It is not a big deal for us and we will find alternative markets for that product. This is not to say we wouldn't like to continue to serve Russia."
For its part, a spokesperson for Tyson Foods stressed that the firm operates to rigorous safety standards.
"We're committed to producing safe, healthy food for the world. Our company has programs, processes and technology in place covering all aspects of food safety, from the farm to our processing facilities and even to the consumer. We also employ a food safety and quality staff of more than 2,000 people who work with our plants and regulators to monitor the effectiveness of our efforts," the spokesperson stressed.
"All Tyson Foods plants are federally inspected. In most cases USDA inspectors are stationed on-site, full-time at our plants. The federal government's presence ranges from one inspector per production shift to more than two dozen, depending upon the size and complexity of the operation."