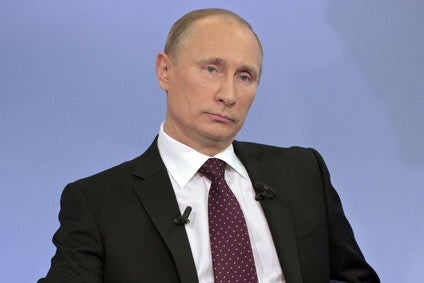 Russia has decided to block imports of meat products, fresh produce items and salt from Turkey as part of Moscow's sanctions against the country after the downing of a fighter jet last week.
In an email to just-food today (2 December), Russia's Ministry of Economic Development said seventeen types of food were banned, ranging from poultry products to cauliflowers and strawberries.
Vladimir Putin, the Russian President, issued the decree on sanctions on Saturday. On Monday, Prime Minister Dmitry Medvedev met his deputies to discuss the measures. In a transcript of the meeting on the Russian government's website, Deputy Prime Minister Arkady Dvorkovich said the government "would do our best to avoid price hikes on the domestic market" and suggested a delay in the introduction of the restrictions. The ban starts on 1 January.
In an interview with Russian news channel Russia-24, the minister of economic development, Alexey Ulyukayev, said there could be a short-term disruption to supplies due to the embargo. Ulyukayev said it will take time to contract new suppliers and introduce sanitary and phytosanitary controls. However, he added: "All in all we have situation under control and in reasonable period of time we will ensure availability of all products on Russian consumer market."