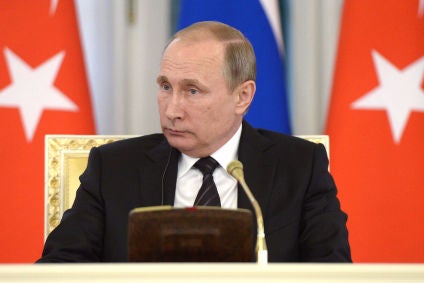 Russia has agreed to ease some of the trade restrictions it has placed on Turkish agricultural products as the two countries work to "normalise" bilateral relations.
Speaking following a closed-door meeting following a special session of the 23rd World Energy Congress, Russian President Vladimir Putin revealed "very constructive talks" on a "series of important issues" had been held.
"We agreed to continue making the necessary efforts to completely normalise our bilateral ties. In this connection, I would like to point out that today the Russian government decided to give an entire group of Turkish goods access to the Russian market. These are agricultural products: stone fruit and citrus fruit," Putin said.
Moscow imposed the curbs last year after diplomatic relations between the two countries soured following the shooting down of a Russian fighter jet in November.
Putin said the easing of restrictions was a "mutually beneficial decision".
"The Russian agricultural sector does not produce these kinds of fruit and we expect a price decrease after the Turkish goods enter the market. For our Turkish partners this is, naturally, entry to the Russian market. Let me remind you that sales of these Turkish goods on the Russian market were at US$500m in 2015. Therefore, this is an important decision."
Turkey's President, Recep Tayyip Erdogan, pledged that "both sides will keep working" towards improving relations. He said that topics discussed at the meeting included the conflict in Syria, energy issues, commerce and the economy.